Inside Professional Wrestlers Cody Rhodes and Wife Brandi Rhodes' Married Life
They have been married for eight long years.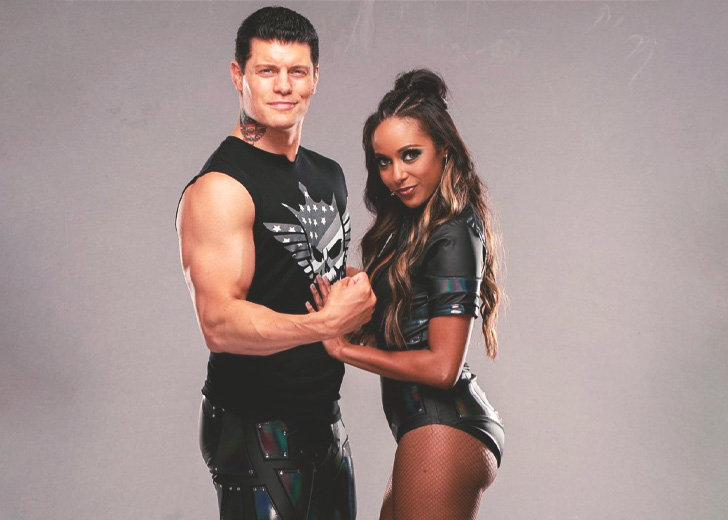 Wrestling played a vital role in Cody Rhodes and his wife Brandi Rhodes' career. The profession skyrocketed them to stardom.
But who knew it would have an equal influence on their personal life. If not for wrestling, the pair might have never married or known each other. However, that's not the case. As if destined, the duo chose the same profession and met in WWE.
In the beginning, Brandi repudiated the thought of dating Rhodes, the son of the famous Dusty Rhodes. She was a newcomer, laser-focused on building her career. She didn't want relationships to divert her from her life goals. 
But after Cody consistently asked her out, she had a change of heart.
Soon, the pro wrestler took her on their first date in Waffle House and later took her on a dinner date at Cracker Barrel. The couple had their first kiss at the Union Station Hotel in St. Louis, Missouri. 
Things progressed quickly afterward, and the pair tied the knots on September 12, 2013. Here's a quick rundown on their married life, from having their daughter to creating their reality show. 
Cody Rhodes and Wife Welcomed Daughter in 2021
Seven years after the wedding, Rhodes and his wife announced they were expecting their first child on All Elite Wrestling's Dynamite in December 2020. They posted a short video revealing they were having their first child.
"Cody and I are so excited and overwhelmed by this news," Brandi told People right after the announcement. She said they were embarking on another incredible chapter. 
After the disclosure, the AEW star kept her fans and followers in the loop regarding her pregnancy. She regularly posted pictures of her baby bump on her social and even flaunted the Disney-themed nursery she prepared for her kid. 
Finally, Cody and Brandi welcomed their daughter, Liberty Iris Runnels, in Atlanta on June 18, 2021.
"Just like a Rhodes… she's early never late! Liberty Iris came right on time," the couple shared to People. They also expressed that they were so in love with their tiny angel that being grateful for her birth was an understatement.
Two months after their daughter's arrival, Brandi got candid about her postpartum depression on Instagram. Posting a picture with her daughter, she wrote a lengthy caption starting with, "this will seem chaotic, but I want to write it, anyway."
At first, the new mother raved about the happiness she got from her daughter's birth. Then she mentioned she was distressed at the same time.
In her own words, she could stare at her baby and cry in the middle of the night, thinking of things that could happen to her.
She referred to her experience as "nonsensical stuff" before assuring her fans that they were not alone if they had or were going through the same sentiments. All in all, the wrestler urged her followers to be upfront about such feelings.
Inside Cody Rhodes and Brandi's Professional Endeavors
While Cody and Brandi are undoubtedly invested in raising their daughter, they also devote time to their budding career.
Together, the pair star as professionals on All Elite Wrestling's Dynamite.
Besides being a performer, Brandi is a chief brand officer at the professional wrestling company, while Cody serves as the Executive vice president. 
Since September 2021, they even started hosting their reality show, Rhodes to the Top. The TNT's program aims to showcase the married couple's life behind the scenes, in and out of the wrestling ring.