Inside Coby Bell's married life with Wife Aviss Pinkney-Bell
Coby Bell and Aviss Pinkney-Bell have two sets of twins.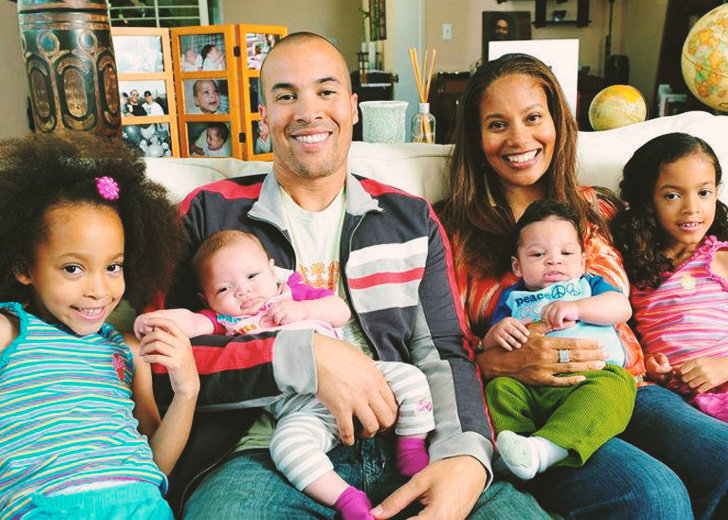 Coby Bell may have earned massive attention playing Jason Pitts, an unfaithful husband, in the television series The Game in 2011. But his real-life persona is a far cry from his character. 
Bell is a loving husband and a doting father to four children. Here's what we know about his family life. 
Coby Bell Married His Wife in 2001
Bell married Aviss Pinkney-Bell, a clinical supervisor, on June 9, 2001.
The famed actor donned a black tuxedo while his bride wore a square neck, long-sleeved white wedding dress for the big day. 
Two years after the wedding, the couple welcomed identical twin daughters — Jeana and Serrae — into their family on June 21, 2003.
The family bliss multiplied when another twin, a fraternal pair of a boy, Eli, and a girl, Quinn, arrived on December 2, 2008. 
"We're not getting any sleep, but we are extremely happy people," the couple told People, announcing the birth of their second set of twins. 
Bell on Raising His Kids
In an interview with the Black Enterprise in 2011, Bell gushed about fatherhood and shared how he was balancing his budding career and family life.
"It's challenging, but it's the best thing in the world," the 46-year-old shared before stating he was doing all the hard work just for his kids. He mentioned his busy schedule, disclosing how he had to fly from city to city to handle his projects. 
Then, the father-of-four shared his secret technique to balance his personal life and work. As per his accounts, he demanded a day-off every weekend if he got a job out of his town. And no matter how far he was from home, he visited his family every week. 
Bell also disclosed that the favorite thing to do with his children was spending time with them, whether by playing volleyball, teaching them piano, or picking them up from school.
He recounted he took his kids to a Long Beach restaurant every Sunday, and it was already their family tradition. The Walker actor implied he loved being with their kids. 
Who Is Coby Bell's Wife Aviss Pinkney-Bell? 
Bell's long-time wife Aviss is a clinical supervisor at The Autism Collaborative Group.
Her LinkedIn profile reveals she graduated in psychology from the San Francisco State University in 1991. In addition, she studied sport psychology through a two-year program in 1997. 
In 2019, the mother-of-four earned her license as a behavior technician from the Behavior Analyst Certification Board. After that, she started working as a treatment analyst at Autism Partnership, beginning in August 2019. 
Since then, Aviss has been balancing her jobs and role as a mother to four children.