A Look at Cobie Smulders' Wedding with Husband Taran Killam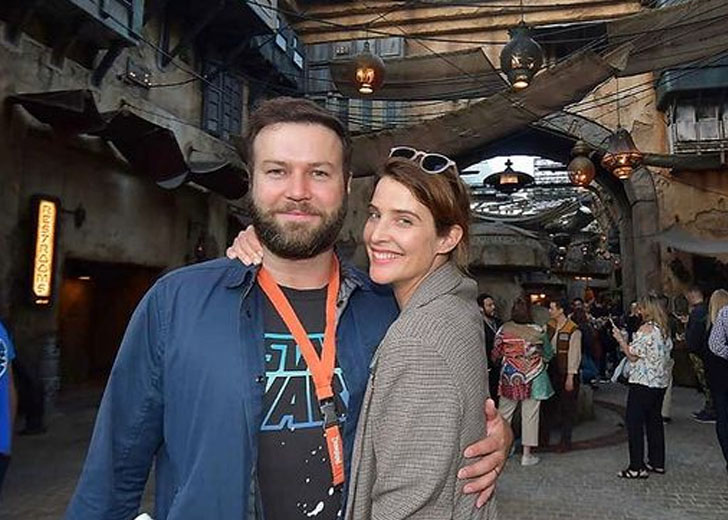 Actress Cobie Smulders married actor Taran Killam at a Guest Ranch and Resort in Solvang, California, in 2012.
The actress was seen dressed in a lacy, low-backed gown designed by Los Angeles-based couturier Claire Pettibone for her wedding.
The dress was made of beige cotton toile. It was trimmed in French gold embroidery and boasted velvet insets, and a cascading bustle as Us Magazine wrote in their report.
However, her craftily designed wedding dress wasn't the only gown designed for her. 
She had a sleeveless shorter dress done with a high neckline and flouncy skirt for the main event.
According to People, she paired the frock with a mint-green sweater and feminine white flats featuring matching mint-green flowers.
How Did Actress Cobie Smulders Meet Her Husband, Taran Killam?
The actress dated Killam for around three years before exchanging vows with him.
The couple met each other for the first time in January 2009 and announced their engagement shortly after.
In 2019, during her appearance in Live with Kelly and Ryan, hosted by Kelly Ripa and Ryan Seacrest, the actress opened up about her husband, Killam.
"Isn't he just a dream?" Smulders remarked her husband in her initial exchange and later called herself "a very lucky woman."
Smulders and her husband were twenty-two years old when they were introduced to each other during a friend's birthday party.
In her recollections, the actress called the married couple "babies" who survived their 20s together.
"I don't know how that's possible, but we did. It's crazy," Smulders noted her early journey with Killam to the hosts Ripa and Seacrest.
Cobie Smulders' Wedding Was Star-Studded
Any wedding becomes remarkable when the bride and the groom are surrounded by close friends and family. 
However, Smulders' wedding day became extra-special after her co-stars from How I Met Your Mother joined the actress on her big day.
Among the attendee were actors Alyson Hannigan and Neil Patrick Harris.
Also, actor Joe Manganiello, who married his wife Sofia Vergara in 2015, was in attendance to celebrate Smulders' wedding.
Actress Hannigan was present with her two daughters, Satyana and Keeva.
On the other hand, Harris was in the company of his family members, including his partner David Burtka and his then 22-year-old twins Harper and Gideon.
Harris later took to his Twitter account and called Smulders' marriage ceremony to be "the most fantastic wedding I've ever attended."
Spent the weekend with the family at one of the most fantastic weddings I've ever attended. Good times. So much love. — Neil Patrick Harris (@ActuallyNPH) September 10, 2012
Smulders and Killam's Family Life with Their Kids
Smulders, known as commander Maria Hill in the MCU, is a mother to her two kids.
With her husband Killam, the actress is blessed with two daughters Shaelyn Cado Killam and Janita Mae Killam.
In 2018, Killam had a chat with People regarding his show Single Parents, and during the conversation, he credited both of his daughters to be "good kids."
But unfortunately, the actress and her husband hardly share images of their daughters on social media.
Additionally, the actors have remained very secretive regarding their kids' identity, and as a result, their whereabouts have remained unknown in public.