Clay Walker and Wife on Living with His Multiple Sclerosis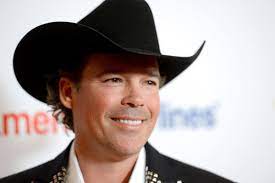 Nothing seems impossible for Clay Walker and his model wife, Jessica Craig, who share seven children. 
Besides managing Walker's highly successful singing career and being parents to seven kids, the couple lives with the country singer's multiple sclerosis. 
Walker remembers the fateful day in 1996 when he was diagnosed with MS. He was told he would be unable to walk in four years and be dead within eight. 
The diagnosis didn't surprise the singer, who had suspected something was wrong with him when he felt the symptoms. 
But that did not define who he was, and neither did it stop Craig from loving him and filling his life with joy. 
Walker's wife also ended up being his caregiver. 
In an interview with Parade, the couple opened up about their life with Walker's diagnosis.
Clay Walker's Wife Caring for Him
Walker, who was ready to marry his wife, shared that he was worried that he would be burdening his wife and their children with his disease.
The duo ended up having an in-depth discussion about it. 

Clay Walker and his wife and children (Source: Clay Walker/Instagram)
He claimed that Craig was very honest and open with him, which he believes is the foundation for their success.
Meanwhile, the model admitted that she knew little about it but was never afraid and approached it head-on. 
Craig explained that she had established a routine for the hitmaker, which consisted of three main things—"eating right, getting enough exercise, and taking his medication."
Walker's diet was organic, and for his physical activity, his wife and children worked out with him. 
"We like to go outside and run in the yard together," she shared. 
The model also gave an important tip. She shared that having a support team was important.
Whenever she needed help, she reached out to her mother, and when Walker was on the road, she would call up his bandmates to ensure the singer got his workout in. 
Clay Walker and His Children
In the aforementioned interview, Craig also shared that she always wanted to be a mother. 
The couple welcomed their youngest child, a son named Christiaan Michael Walker, in January 2021. 
This is the seventh child for Walker, who shares sons Ezra Stephen, 3, Elijah Craig, 7, and William Clayton, 12, and daughter Mary-Elizabeth, 11, with Craig. Additionally, he has daughters Skylor, 21, and Maclay, 25, from a previous marriage.
The father of seven shared with People that he and Craig found comfort knowing that their newborn had a solid support system of siblings. 
He noted that his whole family was excited to welcome another baby boy, although his then 10-year-old Mary Elizabeth needed some cajoling to get there.
As for his wife becoming a mother again, the singer stated that she was born to be a mother and loved being one. 
"I can honestly say that she's a saint, and everyone around her knows it, too. It's [being a mom] the toughest job on Earth," He said.
He added that mothers needed more adoration and acknowledgment, as there was not a more unselfish way of life than being a mom.