TikToker Dragged for Flashing Ciara's Reported Pregnancy with Fourth Kid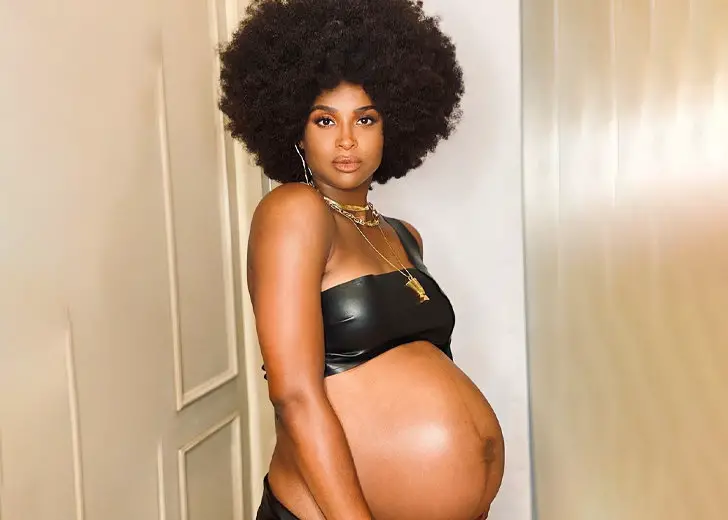 Ciara Princess Wilson, commonly referred to as Ciara, quickly became the hot topic of discussion amongst her fans when a TikTok user [@Lolaloveu5] posted her fan moment with the famed singer-songwriter.
In the video, the fangirl showed Ciara sporting a low-key outfit while expressing she was a huge fan.
"POV you meet an icon when you look crazy," she wrote, adding a laughing emoji. "This beat is automatic supersonic hypnotic funky fresh Ciara? Yes ma'am."
The video, however, didn't become viral entirely for the fan moment. It was predominantly because the fangirl accidentally spilled the beans about the singer reportedly being pregnant with her fourth child.
A close look into the clip, and one can clearly see Ciara flaunting a baby bump.
Fangirl Spoke on Ciara Being Pregnant
After the video was posted, it got noticed for Ciara's growing tummy, confusing many fans if it was actually her baby bump or just a growing belly due to weight gain.
"I'm sure she didn't notice until y'all pointed it out .. she prolly not even pregnant.. let her live," a user on TikTok wrote.
Another asked, "Why would you ruin her announcement?"
Meanwhile, the fangirl, who posted the video with Ciara, also opened up about her thoughts on the ongoing discussion.
"In my defense I didn't even see she was pregnant. When I said I just found out it cuz y'all pointed it out to me. I had no bad intentions," she stated.

A snap of Ciara with the fangirl who accidentally revealed the singer's alleged pregnancy news. (Photo: TikTok)
"Before the video we took 3 pics but I looked so crazy I asked her if I could just take a video of her."
Going by her statement, pinned on her video's comment section, she hadn't realized that Ciara could be pregnant, and she took away her announcement. After the fans started pointing out the possibility of Ciara hiding her pregnancy, she knew what she had done.
Is Ciara Actually Pregnant? Rumors Discussed
The rumors of Ciara expecting her 4th kid have been going around since late 2021.
Fans first thought she was pregnant after her Instagram video [posted on December 23, 2021] went viral. Some of her followers were convinced she was showing off a baby bump in the video.
In the video, she allegedly encouraged her social media followers to expect better things in the future.
Similarly, the singer's fans were once again convinced that she was concealing a baby bump after viewing her February 5, 2022, clip to her latest Ten to One Caribbean rum promotion.
"Are you pregnant @ciara ? This is giving me hiding small bump vibes," someone asked.
"I was lookin at that stomach Ciara …… girl u baking???" another added.
However, despite the ongoing rumors and speculations, the singer is yet to confirm if she is expecting a new baby.
Ciara welcomed her first baby, son Future Zahir Wilburn, on May 19, 2014, with her then-partner, rapper Future.
She then ended her engagement with Future and moved on with Seattle Seahawks quarterback Russell Wilson.
With the quarterback, she subsequently gave birth to their first [her second] baby, a daughter, Sienna Princess Wilson, on April 28, 2017. Afterward, the couple had a son, Win Harrison Wilson, on July 23, 2020.