Christian Plourde Seemingly Dating New Girlfriend McKinley Richardson after Mads Lewis Break Up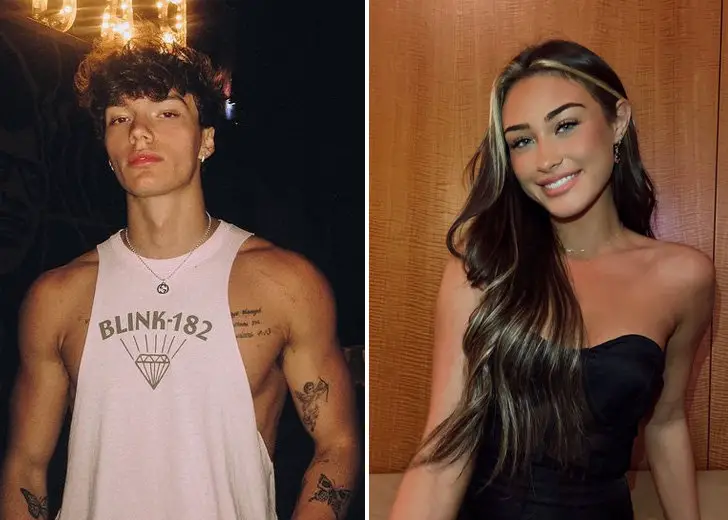 TikTok stars Mads Lewis and Christian Plourde were the center of break up rumors for quite some time. 
But in February, Plourde, who goes by Sevryn on Instagram, confirmed to The Daily Stardust that he was no longer with Lewis. 
When asked if he was single, he confirmed it and iterated he was busy focusing on his music. 
And it looks like Sevryn has already moved on with a new girlfriend. 
On April 9, The original Tiktokroom uploaded a photo of the aspiring musician in Miami Beach, Florida. 

Christian Plourde and his alleged new girlfriend (Source: The original Tiktokroom/Instagram)
It was a selfie that Plourde had posted, but there was a woman behind him who had her arms around his neck in the photo. 
Christian Plourde Has a New Girlfriend
The Instagram page did not reveal who the mysterious woman was, but a few minutes later, they reshared the photo, and her identity was revealed this time. 
The original Tiktokroom's followers did some digging and found out that Plourde might be dating McKinley Richardson. 
According to her LinkedIn page, she is a model and social media influencer with over 50,000 and 460,000 followers on Instagram and TikTok. 
Five days ago, Richardson had taken to her TikTok and posted a video to Jack Harlow's 'First Class.'
In the video, she wrote, "Friday couldn't come any sooner," and she asked her followers to guess where she was going in the comments. 
A few followers said she was going to Miami, and they were right because a few days later, she took to her Instagram story and uploaded a photo of Miami Beach. 
Most people guessed it was her because they thought her hair and nails matched the photo The original Tiktokroom posted. 
In the comments section of that post, netizens iterated that Plourde would probably treat her like he did Lewis. 
"Wasn't he shading mads? He's about to do the same thing mads did to him to his new girl,' one user wrote. 
Christian Plourde Talks about His Break Up
It is unconfirmed if Plourde is dating Richardson, but on April 6, the former opened up about his break up to YouTube reporter Tyler Boronski. 

Christian Plourde talking about his break up with Tyler Boronski. (Source: Tyler Boronski/YouTube)
The social media star shared that he never thought he would be dating in the public eye, and even though he and Lewis tried to keep things private, the lack of privacy was inevitable. 
He explained that since their fans were "kind enough" to care about them, it was only fair for them to share parts of their relationship with them. 
But even with everything they put up online, Plourde and Lewis had issues like any other relationship, which they handled offline. 
The aspiring musician added that with enough maturity and communication, anyone could move forward from break up, but dealing with the rumors was difficult for him.  
"I'd say the hardest thing about it is dealing with the rumors because people jump from a to c without caring about b. But I don't have to speak on it as long as God knows the truth," said Sevryn. 
Plourde acknowledged that Lewis was an amazing person, but they just wanted to focus on their careers.