Chrishell Stause Reunites with Ex Boyfriend Jason Oppenheim for His 45th Birthday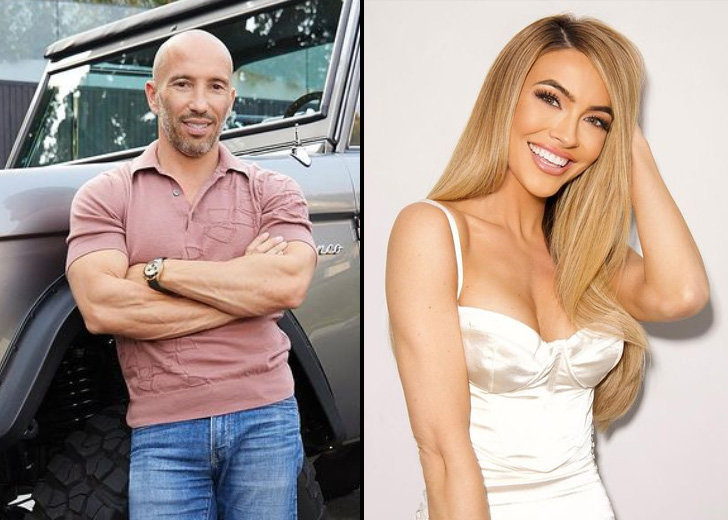 Chrishell Stause is not letting the past hamper a celebratory mood.
The realtor, who had been in a relationship with Jason Oppenheim for a while, amicably split with him in December 2021. Since then, their dating life has not created that big a buzz.
What has created a stir is them getting back together, though, even if it is just for his birthday. Stause and Oppenheim were recently seen attending his and his twin brother, Brett Oppenheim's 45th birthday celebrations.
Chrishell Stause Reunites with Jason Oppenheim for His Birthday
On April 12, 2022, Chrishell was photographed with Jason and Brett in West Hollywood. They were seen in a good mood outside the brothers' office, The Oppenheim Group, on Sunset Boulevard.
She was dressed in a pink form-fitting maxi dress as she showed off her toned midriff. Chrishell wore a high pencil heel to complement her dress.
The three were going around the street, taking selfies and videos of one another. She even took a few selfie videos with the fans present there.
She later posted a few clips from their street ventures on her Instagram stories. "It's a popular day at The Oppenheim Group," she said of the day in one of the clips, as fans wished Jason and Brett in the background.

Chrishell Stause reunites with ex boyfriend Jason Oppenheim for his 45th birthday in April 2022. (Photo: Chrishell Stause/Instagram)
In another one of her stories, she shared a picture of a group birthday celebration they did with a group of friends, including Emma Hernan.
Even though this was a good reunion for the two, this isn't the first time they have gotten back together for reasons other than romantic ones.
Chrishell and Jason, who still remain colleagues and friends, last got together in February 2022. It was for a signing for her memoir, Under Construction: Because Living My Best Life Took a Little Work, published by Barnes & Noble.
According to E! News reports, they were friendly and even a bit flirty. Many inside jokes were also exchanged between the two past lovers.
That same day, they also attended the Homecoming Weekend bash, a pre-Super Bowl LVI party in Los Angeles. However, they were not spotted together here.
Chrishell Stause and Jason Oppenheim's Relationship and Break Up
It was in July 2021 that Chrishell and Jason first became official. After this, their public appearances became commonplace, and so did PDA.
But their romance ended in December 2021. They broke up in the most amicable way possible. Jason even made a sweet post explaining their relationship and what had happened on December 21, 2021.
In the post, he clarified that while they were not together anymore, they remained best friends and supported one another. He even called Chrishell the "most amazing girlfriend" and an "exceptional human being."
Before Jason, Chrishell was married to Justin Hartley. They started going out in October 2013, got engaged in July 2016, and tied the knot at a Malibu ranch ceremony in October 2017.
However, things started going downhill for the couple, even though the two never talked about that. According to Chrishell, Hartley filed for divorce in November 2019.