World Series Winner Chris Taylor Dating Mary Keller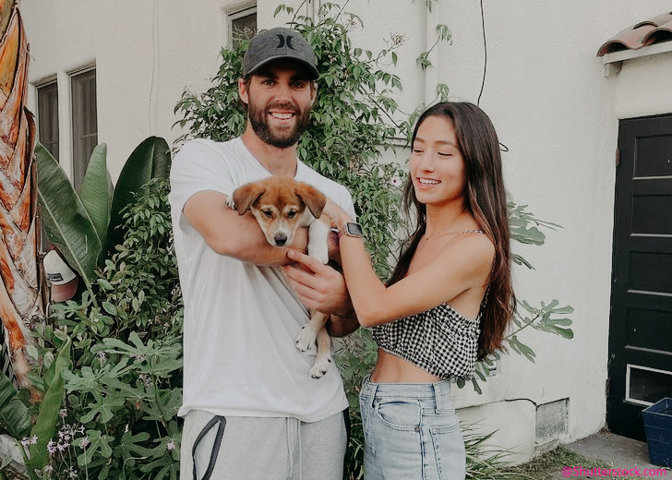 Last year the Los Angeles Dodgers ended their 32-year wait for a World Series title. The National League (NL) champions defeated the American League (AL) champions Tampa Bay Rays 4-2, with Corey Seager winning the Most Valuable Player award.
Unfortunately, fans could not witness this incredible season because of COVID-19 restrictions but were treated to a ring ceremony earlier in April this year.
The easing of these restrictions and the subsequent ceremony was a cathartic moment for players and fans alike, as they were finally able to celebrate their victory together in person.
While the Dodger's season was filled with inspirational and, at times controversial moments, one of the season's most interesting subplots was utility man Chris Taylor who started every game of the World Series and hit an average of .217 in 24 plate appearances.
Taylor was accepted in the Virginia Baseball Hall of Fame after becoming the first University of Virginia player to play in both a College and MLB World Series. 
Taylor even received a message from his former college coach Brian O'Connor during the ring ceremony in April. O'Connor said,
To see his development as a major league player and have so many opportunities to win a World Series and then finally get one last night was awesome. His contributions to that team were great this season.
Taylor attracted a lot of attention following his consistent match-winning performances last season. Consequently, his private life has also come to the fore, particularly his relationship with girlfriend Mary Keller.
Cute Moments from the Chris Taylor and Girlfriend Mary Keller's Relationship
On July 13, Taylor walked the purple carpet with his girlfriend as he arrived at Coors Field for the All-Star Game in Denver, Colorado.
In a post by the LA Dodgers, the couple introduced themselves to the cameras with Taylor speaking awkwardly and Keller looking extremely nervous.
Later that day, Taylor's mother also posted a picture of her and her husband alongside the young couple. 
Chris Taylor with his girlfriend, Mary Keller. (Source: Instagram)
Keller's relationship with Taylor first became public last year in August when Keller made an Instagram post wishing Taylor on his 30th birthday.
She posted a series of pictures of her and Taylor hiking together along with her beloved pet dog, Hendrix. 
Later in the year, Keller attended the game that Taylor gave the World Series. The couple was not afraid to display their love in public as they kissed through the nets.
While Keller posted pictures of their kiss on October 29, 2020, Taylor only posted about Keller in March 2021 in a "long overdue girlfriend (and Hendrix) appreciation post." 
On Taylor's off-season, the couple took a trip to girlfriend Keller's hometown Honolulu, Hawaii. Keller shared a picture of the couple walking together on a beach in Oahu. 
Keller is a Media & Entertainment Associate at Russ, August & Kabat. She graduated from the University of Southern California in 2017 with a Juris Doctor degree.