Insights into the Married Life of Chris Pontius and His Wife Mae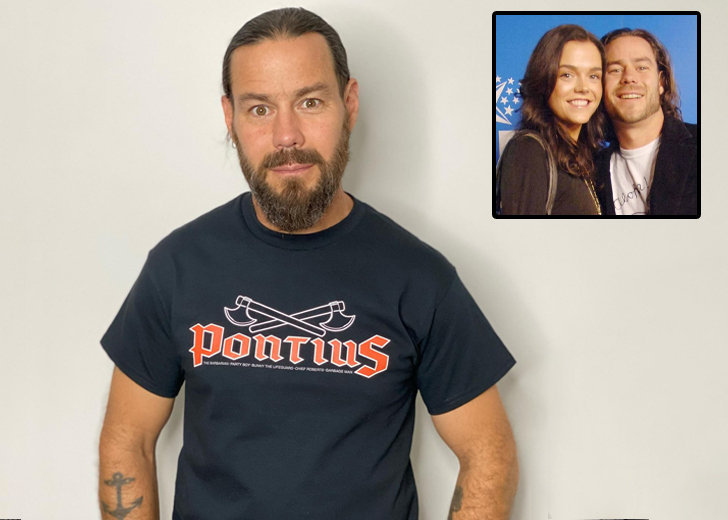 Chris Pontius is married to his wife, Mae Quijada. Together, the pair has one child, son Axe Magnus Pontius, who was born in 2019. 
Pontius and his wife frequently post about each other on their respective social medias. However, they have shared almost nothing about when or how they met.
It's also not known when the two tied the knot, but he has referred to Quijada as his spouse on multiple occasions.
Quijada has also described herself as "Axe's Mother and Chris' Wife" on her Instagram.
Chris Pontius and Wife Mae Quijada
It was first revealed that Pontius was dating Quijada back in 2011.
Rick Kosick had uploaded a picture of Pontius and his new girlfriend alongside Jeff Tremaine at the Ryan Dunn memorial softball game.

Chris Pontius with wife Mae Quijada and Jeff Tremaine at the Ryan Dunn memorial softball game (Source: Instagram)
While Kosick didn't introduce her as Pontius's partner in his Instagram post, he referred to her as the stuntman's girlfriend in a tweet where he linked the aforementioned post.
Pontius's divorce with his first spouse, Claire Nolan, was still ongoing at the time.
Towards the end of 2021, Quijada posted a throwback picture of herself and Pontius back in 2012.
The two could be seen smiling at the camera while Pontius had a guitar on his lap.

Chris Pontius with Mae Quijada in 2012 (Source: Instagram)
"2012 Mae & Chris…," she captioned the post followed by two blue heart emojis.
The Jackass star and his wife welcomed their only child together, son Axe, in 2019. He announced the news with an Instagram post on December 15, 2019.
Posting a picture of his newborn, he thanked his fans for their support throughout the years.
Both Pontius and his partner post about their son now and then. In November 2021, she posted a series of videos on her Instagram from their family's visit to the zoo.
There, Pontius could be seen narrating about the animals they were looking at while Axe accompanied him.
Chris Pontius and Claire Nolan
Before getting together with Quijada, Pontius was married to Nolan. The two tied the knot on October 29, 2004.
Following their marriage, the pair lived in Avoca, Co Wicklow, where they refurbished an old schoolhouse. They sold the house for about €1 million in 2008 and moved to America.
Seven years after their marriage, Nolan filed for divorce in 2011, citing irreconcilable differences.
According to TMZ, Nolan claimed she and Pontius had separated back in 2009. Their divorce was completed on October 11, 2013, at Los Angeles County Superior Court.
The outlet reported he got to keep his house in Hollywood Hills while Nolan got the one they had in Ireland.
On top of the house, Nolan also got a vintage 1965 International Scout, her engagement ring, and alimony worth $200,000.
As for Pontius, he got to keep his royalties from the shows Jackass and Wildboyz, as well as his 2012 Toyota FJ Cruiser.
He also got everything in their American investment accounts and an unknown amount of credit card debt.