Chris Hemsworth and Chris Evans Are Brothers from Another Mother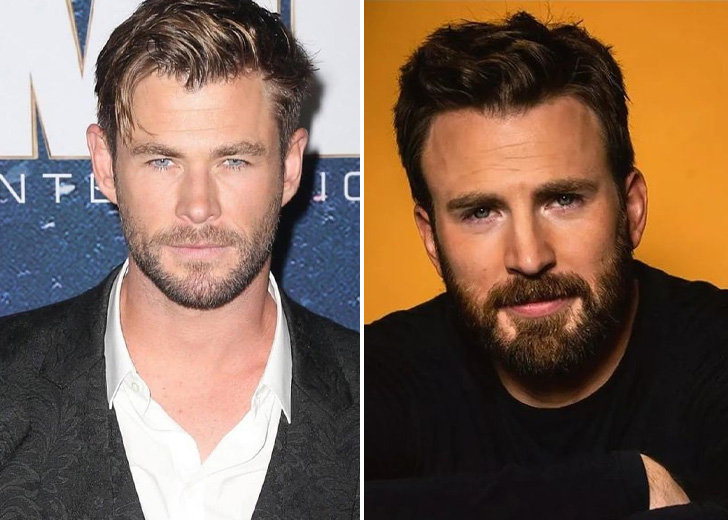 Chris Hemsworth and Chris Evans are two of the most popular superheroes in the MCU. 
Most fans assume that there is some competition between the two legendary actors. 
Thankfully, there is no animosity between the two. On the contrary, the duo is really good friends in real life, evidenced by their interaction over the years. 
From the outset, Hemsworth and Evans have struck up a friendship beyond the sets and press junkets. 
Chris Hemsworth and Chris Evans' Brotherly Bond
They initially met at a New York City nightclub around 12 years ago. 
At the time, Captain America: The First Avenger had just finished shooting while Hemsworth was training for Thor.
"Seriously. I think I went out, and you'd just done your movie [Captain America: The First Avenger]. I was training for Thor and someone introduced us. We got home about 7 the next morning," Hemsworth revealed to People. 
And when the Australian actor and Boston native found out they would be working together on the Avengers franchise, they knew they would get along well.
The Thor star said that they both knew working with each other would be easy. 

Chris Evans and Chris Hemsworth at the set of 'Avengers: Infinity War.' (Source: Instagram)
And as they worked together on the films, their bond got stronger, and it was so strong that eventually, both of them said they were practically brothers. 
In an interview with Variety, Hemsworth shared he had a "brotherly bond" with the Captain America star. 
He added that the duo had so much fun that they would not be paired up on press tours because they would spend time pulling each other's legs. 
Similarly, Evans told Esquire that Hemsworth was "like a brother" to him and that they had similar career trajectories after taking on the Marvel hero roles. 
They were both nervous about joining the MCU, as they didn't know how it would play out. 
Chris Evans thanks Chris Hemsworth for Helping Him
During his appearance on The Hollywood Reporter's Awards Chatter podcast, Evans opened up about his nervousness and how Hemsworth played an important role. 
Hemsworth joined the MCU as Thor in 2010, while Evans suited up for Captain America: The First Avenger a year later. 
Both the superheroes had multi-movie deals before being approached by Marvel. 
"I mean, at the time Downey's Downey and Scarlett's Scarlett [Johansson]. And [Mark] Ruffalo and [Jeremy] Renner, at the time, were crushing it, too. Hemsworth and I were very new, and we also had the stand alones and so I think we shared in our anxiety," said Evans.
He explained that in 2010 when he was filming Puncture, he started having mini panic attacks on set, which made him wonder if he was healthy enough to take on the role of Steve Rogers.
The actor even considered rejecting the role. 
But his co-stars and friends all urged him "not to make a major decision based on fear." 
Fortunately, Evans agreed and starred in 11 movies spanning The First Avenger to Avengers: Endgame. He later described it as the best decision he ever made.