Chloe Hayden Was Never the 'Quirky Little Genius' Her Parents Thought She Was, but She Is a Genius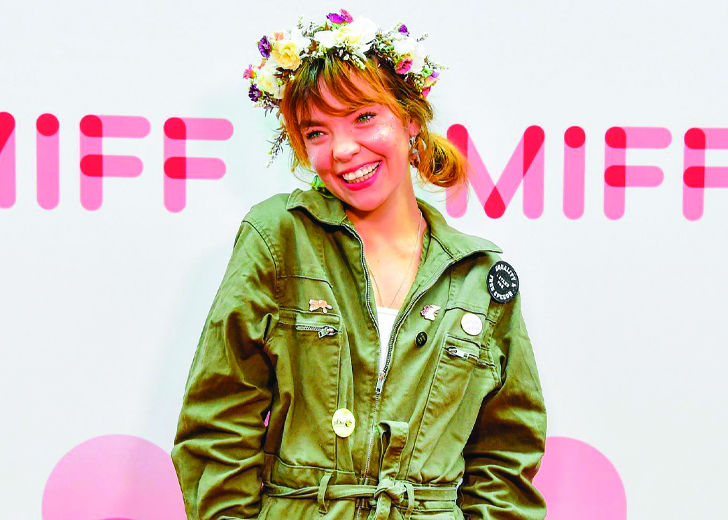 Chloe Hayden has been one of the top creators on TikTok for the past couple of years. But now, she is finally becoming the big name she was always destined to become.
The autism activist, who has a massive library of educational content on her social media, especially TikTok, is making her entry into the entertainment industry. And she is doing it in a grand way — with a lead role in a major TV reboot.
Here is everything you need to know about the Heartbreak High actress — her age, autism, and activism.
Chloe Hayden's Age, Parents, and Siblings
Hayden, whose full name is Chloe Sarah Hayden, is an Australian YouTuber, social media personality, author, activist, and now an actress.
Hayden was born on July 23, 1997, near Geelong, Victoria, Australia. But she never stayed in one place for long.
"Growing up, I lived everywhere, never settling anywhere in particular and going when and where we felt," she said during a Q&A with Ramona Mag in August 2021. By the time she was 13, she had attended 10 schools.
She has lived in over 15 houses until now. As of this time of writing, she lives just outside of Geelong on a "beautiful little farm" with "about 75 animals."

Chloe Hayden with her parents. (Photo: Chloe Hayden/Twitter)
As a young girl, Hayden was a shy, timid kid who was always called "quirky" by anyone who met her. Even her parents referred to her as their "quirky little genius."
She had no friends and battled anxiety and depression. The bullying only made them worse, and her psychologist suggested her parents homeschool her to keep her safe.
Chloe Hayden's Autism and ADHD Diagnosis
For most kids, 13 is a fun age, a time to be making friends and experiencing bliss — And it was a significant age for Hayden as well but not for the same reasons. Instead, she was to be delivered a life-changing diagnosis.
Even when her parents knew she was different — she struggled with school, social inclusion, mathematics, sensory issues, etc. — they never thought she could have a neurodevelopmental idiosyncrasy. It was, she suggests, due to stereotypes about how women are less likely to have autism.
After her diagnosis, a panic set in her household for a while. She even remembers asking her mother if she was going to die because of it.
However, with time and knowledge, that all went away. "We came to the realisation that autism doesn't change anything, it simply gives a word to something that we've known all along," she said.
She realized she was no better or worse than everyone else, just that she experienced the world differently. "I see autism as a superpower," she told The Guardian in May 2020.
Hayden was diagnosed with ADHD when she was 22 years old, and this time, the Hayden family celebrated the diagnosis rather than worrying about it.
Proudest big sister in the world today.
My little brother has autism as well. And is one of the most shy, timid kids I've ever met.
Today he came out of his shell, completely stepping from his comfort zone, and sang with me to a large crowd.
I am constantly inspired by him. pic.twitter.com/Jjtzv1b9A0 — 🌻 c h l o é h a y d e n 🌻 (@chloeshayden) March 30, 2018
Hayden's younger brother is also autistic. 
From Social Media Activism to 'Heartbreak High'
Hayden's social media journey began on TikTok. The activist first joined the platform not to raise awareness or make educational content.
Instead, she only wanted to create "silly One Direction videos." "I didn't at all consider it to be a platform that I could use to spark conversation and advocacy," she confessed.
She did not even tell any of her early followers she had autism. But, then a rap trend took off on the platform, and she jumped in on the opportunity — she created a rap about autism, and uploaded it on the platform expecting nothing.
Hayden woke up the next day to over five million views on her "just for fun" video and thousands of new followers. It was then that TikTok's potential for advocacy dawned on her.
She started making engaging advocational content about autism, first on TikTok, and later transferred her audience to YouTube and Instagram. Her intention was to create videos for other autistic people, but her content also resonated with people without Asperger's.
After this came her motivational speaking and public presentation gigs. Her father helped her with the speeches and topics to discuss, and she conquered that, too, becoming a five-time award-winning public speaker.
It also became her favorite thing to do out of everything she does.
Hayden has also ventured into writing — her book, Different, Not Less: A neurodivergent's guide to embracing your true self and finding your happily ever after, comes out on August 30, 2022.
And now comes her venture into movies and TV shows.
On November 21, 2021, Netflix announced the cast for a reboot of Heartbreak High, and Hayden's name was on the list. She is playing Quinni, an autistic character who is "a master of imitation and masking."
She might not be the "quirky little genius" the way her parents thought she was, but she is definitely a genius for turning something people frowned upon into something amazing and inspirational.
Hayden now has over 345 thousand followers on TikTok, over 76.6 thousand followers on Instagram, and over 69.1 thousand subscribers on her growing YouTube channel.
Chloe Hayden Is Dating Dylan Rohan
Hayden shares most of her life on her social media, and her dating life is no exception. She is not squeamish about talking about her romance with her current boyfriend, Dylan Rohan.

Chloe Hayden with her boyfriend, Dylan Rohan, in December 2020. (Photo: Chloe Hayden/Instagram)
The couple met in October 2020, and they have been together ever since. He is not only her boyfriend but also her best friend.
Hayden often shares pictures with him on her vibrant, educationally jam-packed Instagram, and her posts are not just about their love life. She also talks about his emotional support and understanding.
They accompany each other to live music shows (which she loves) and red carpet events (something she is doing a lot more of now). And he is not embarrassed by what she calls her "Autistic joy."