Chloe Bailey on Overcoming Body Insecurities and Loving Oneself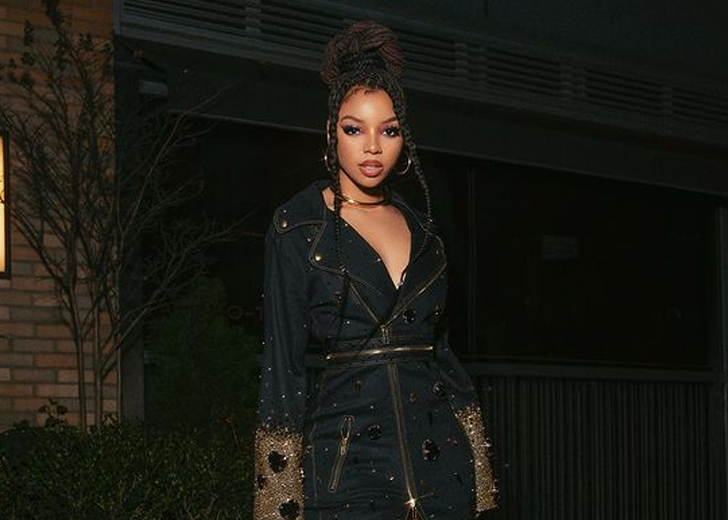 Earlier in December 2021, singer-turned-actress Chloe Bailey guest-starred in Extra TV's video interview.
In her initial exchange, Bailey stated every single individual has body insecurities, and she is no exception.
The singer sang praises of her sister, who spreads body positivity whenever she has downtime.
Chloe Bailey on Body Positivity amid her Body Insecurities
As per Bailey, her weight has remained her biggest insecurity despite people saying they love her body and her curves.
Bailey said she previously had insecurities about her stretch marks and breast size.
She claimed society's image of ideal women and "this idealism of perfection" is humanly impossible.

Source: Chloe Bailey/Instagram
"I think it is so beautiful to feel confident [about your body]," remarked Bailey.
Further, the singer told Katie Krause of Extra that it is normal to use photo filters to enhance your looks, but one shouldn't "let it ruin the image of who you truly are inside and out."
"You are beautiful in every form that you are," Bailey claimed in her response.
Bailey's sister Halle, who was also present during the video conference, said she had body insecurities of her own growing up.
Halle, one-half of the Bailey sister's R&B group Chloe X Halle, cited her sister as a "perfect example" for learning to accept oneself and one's flaws.
She said watching Bailey go through her journey of self-love has inspired her to do the same.
Unlike her sister, Halle always wanted to gain weight and get over her petite look.
She further told Extra how she was slowly embracing to love her body, and her petite body is okay.
"As I am getting older, I am realizing, I am in shape," Halle remarked on her body.
Chloe Bailey on Hateful Comments
In a report by Insider, the Grown-ish star was quoted talking about hate comments accusing her of showing off her body for attention.
The actress is further mentioned addressing her experience with social media bullying in the form of hurtful hate comments.
During her recent appearance in Taraji P. Henson's Facebook Watch talk show, Bailey said people have frequently accused her of trying to get male attention in order to sell her body.
Later, Bailey told the host how she managed to embrace body positivity and refrained from her thoughts and feelings being controlled by others.
"I kind of had to not give it so much power," she added to her previous remark.
As per Bailey, she hasn't done anything wrong by appreciating and loving herself and her body.
Chloe Bailey's "Anthem of Body Positivity"
Bailey's Instagram videos basically radiate body positivity. Bailey is encouraging young women to overcome their body insecurities and feel the same way about themselves.
Earlier in November, she joined r29unbothered over a zoom call and discussed her upcoming musical venture.
However, during her chat, the songstress highlighted how "self-love is the battlefield," and described her "era" of life as "complicated."
In the same conversation, Bailey labeled her hit single 'Have Mercy' as an "anthem of body positivity."
At present, the song's official music video has amassed over forty-five million views and is liked by her 1.3 million fans.
Safe to say the battle against body insecurities and for body positivity is slowly making its mark.