Charlie James' Belt Flash Passes TikTok's Nudity Guidelines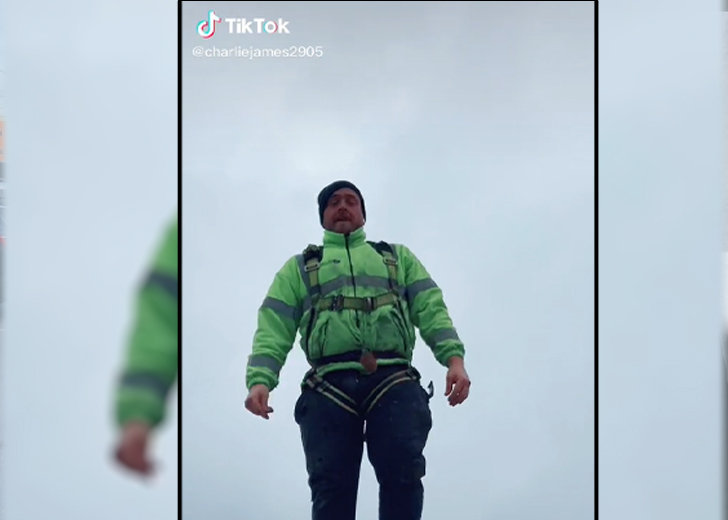 Charlie James, who goes by "charliejames2905" on TikTok, has been appearing on everyone's "for you page (fyp)." 
On March 3, the British TikToker uploaded a clip of himself dancing to Frank Ocean's hit song 'Lost.'
At the beginning of the viral video, the user was seen crouching down to set up his phone to record his dance, but his genitalia took center stage while doing so. 
However, James did not flash his private part. Upon closer look, the object was the end of his flesh-colored safety belt.
The rather scandalous video took over social media and has garnered almost eight million views.

Charlie James dancing with his nude-colored safety belt in his viral video (Source: TikTok)
Netizens have flocked to the comments section sharing their hilarious feedback about what they had just seen.
"So we all thought the belt was...nvm," one quipped.
Meanwhile, a second person remarked that they were getting the popcorn ready for the duets on the video. 
TikTokers 'Want More Belt' 
The viral video has led many other TikTokers to stitch their videos and offer hilarious reactions. 
Famous Filipino user Oliver or Olly, who goes by "otakoyakisoba," has used the video to prank his mother. 
And just like everyone on the app, the TikToker's mother was appalled by what she saw. 
Another popular Tiktoker, 100t Nadeshot who goes by "100tnadeshot," looked bewildered and confused at what he had just seen. 
The creator of the video himself has also reacted to his viral video. 
In the aftermath of his seemingly NSFW video going viral, James posted another video, but there was no racy optical illusion this time.
The creator was singing to chase away his Monday blues, but everyone asked him for more belt content in the comment section. 
A user wrote, "we want more belts' to which he replied, "incoming," and the British TikToker kept his words. 
On March 7, he uploaded another video of himself dancing to 'Do Ya Think I'm Sexy' by Rob Stewart. 
Like his viral video, he started by crouching to put his phone in place, and his "genitalia" was in full view again. 
Cheating the System on TikTok
According to TikTok's nudity guidelines, users cannot post, upload, stream, or share "content that is overtly revealing of breasts, genitals, anus, or buttocks, or behaviors that mimic, imply or display sex acts."
It seems James' video has breached none of the nudity guidelines on TikTok, which is why his videos have not been taken down. 
And because of TikTok's strict rules, users have complained that their videos got taken down for the simplest reasons, like being shirtless or wearing crop tops and bikinis.
But Insider reported users had tricked the app into preventing their semi-nude videos from being removed. 
They have been using the hashtag #fakebody, which has over 1.7 billion views on TikTok. 
The #fakebody tricks the automated moderation system into thinking the body in the video belongs to a mannequin or a sculpture.
This has allowed users to prevent videos they do not find sexually explicit from being removed.