Who Are Cecily Strong's Parents? About Her Family and Ethnicity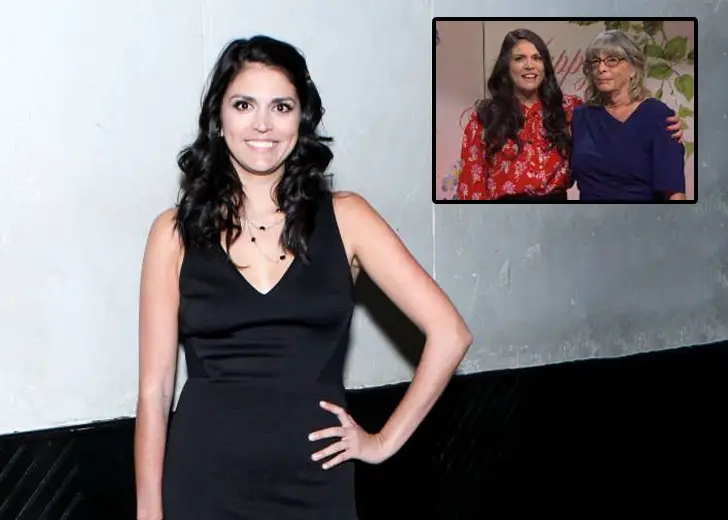 If you have tuned into Saturday Night Live, you would recognize Cecily Strong, who is famous for her impressions of Judge Jeanine Pirro, senator Dianne Feinstein, and Melania Trump. 
She made her debut in 2012, but her fascination with the NBC show started from a young age when she was living in Oak Park, Illinois, an inner-ring suburb of Chicago.
The comedian was born in Springfield, but her parents moved their family to Oak Park in October 1985. 
Cecily Strong's Life with Her Parents
Oak Park was where Strong and her younger brother grew up.
Her parents divorced when she was in grade school, and she lived with her father, William Bill Strong.
He worked as an Associated Press bureau chief at the Statehouse in Springfield. 
He is now a managing partner at the Chicago public relations firm of Jasculca Terman and Associates.

Cecily Strong at the Emmys in September 2021. (Source: Instagram)
Meanwhile, her mother, Penelope Strong, was a nurse practitioner who worked extensively at area hospitals.
In an interview with Chicago Tribune, she shared she was a good kid who attended Abraham Lincoln Elementary.
"I was the student who could do a lot and my parents didn't have to worry about me," shared the comedian. 
But all that changed in her sophomore year when she was caught possessing pot. Unfortunately, Strong was expelled from school. 
Cecily Strong's Parents and Their Divorce
Getting expelled was one of the many things that Strong chronicled in her 2021 biography, This Will All Be Over Soon.
It is unconfirmed if Strong acting out during her sophomore years was because of her parents and their divorce. She did, however, detail the trauma that resulted because of it. 
She talks lovingly about her parents and other family members in the book.
During an interview with The Washington Post in August 2021, the author stated that she had a lot of conversations with her family members about the book. 
Her family members allowed her the freedom with the book and were on board with her plans. 
Another incident that she talked about in her book was the abortion she had when she was 23 years old. 
She even talked about the experience in her Saturday Night Live sketches and her Instagram stories. 
In one story, the comedian noted that the experience was so personal that she had not shared it with her mother. 
"I didn't tell my own wonderful and supportive mom for years and Saturday I told live TV," Strong wrote. 
Cecily Strong's Ethnicity
The actress often starts important conversations in her sketches, and fans and followers alike have highly appreciated her for tackling political issues in her content.
However, fans did not appreciate it when she took on a Latina character. 
In the NBC show, she took on the character with Latin ethnicity even though she was not of the same race. 
The comedian's long black hair and tanned skin made her the first choice to portray a Latina character because of the lack of female cast members.
Performers like Strong, whose ethnicity is ambiguous, have participated in cross-racial or "colorblind" casting on the show. 
Fans were disappointed at the stereotype and called out Saturday Night Live for its lack of diversity.