Casey King's Massive Weight Loss Update: Now He's at 266 Lbs
"I was just eating 'till I'm dead," King once said.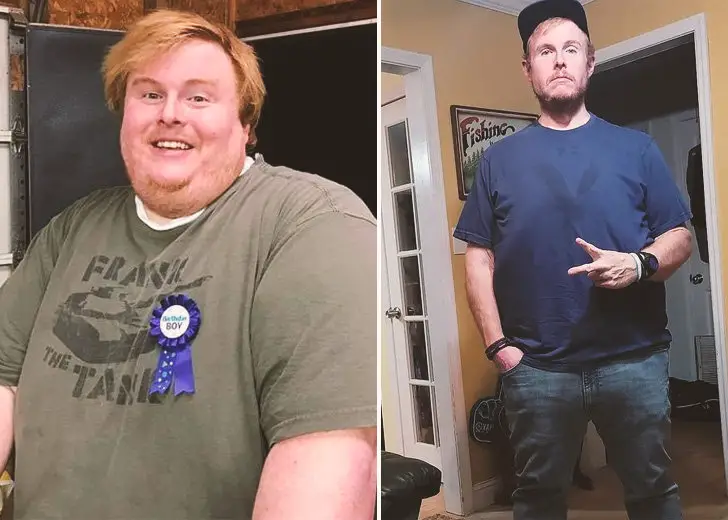 Casey King is at his new lowest weight, and he is so ecstatic that he shared his achievement on three different social platforms with three different posts. 
On September 23, 2021, the reality star took to Twitter and shared a before and after collage of his weight loss journey. Of course, he had to carve out a corner for a snap of the weighing scale to flaunt his progress. 
"Feels pretty damn good," said King as he celebrated going from 845 pounds to 266 pounds. 
Casey King Is Proud of His Weight Loss
Still, the character cap on Twitter didn't really let him say what he had to about his weight loss. So, he carried the same photo over to Instagram and shared that it had been four years since he agreed to be on the TLC show, Family By The Ton.
Agreeing to be on the show was followed by his decision to undergo weight loss surgery—a pivotal step in getting him to where he is today. 
He also outed how he was his heaviest at 845 pounds a few years before getting on the show, but by the time they had begun filming, he was down to 711 pounds. 
He added that his weight loss had changed the way he thought, how he lived, and by extension, his whole life. 
He promised that he would not go back to being the man that he was ever again, but at the same time, he pledged to never forget it. As the caption came to a close, King thanked everyone for all of their love and support over the years.
Casey King Decided to Take Back Control
When King joined the My 600-lb Life spinoff, he was living with his father in Georgia, where all that he would do was eat and play video games. He was practically tied to his bed, or in his words, "I was just eating 'till I'm dead." He added, 
I never would've thought at 34 I'd be living with my father, I'd have no job, have no real money, and just be playing video games all day and eating.
The first season saw the then-unnaturally obese reality star eager to welcome a change in his life. With the trajectory he had back then, he would have probably been immobile by now. 
Thankfully, his resolution was tough as nails. He went from around 700 lbs to 631 lbs by the second season. The charismatic reality star followed a strict diet and started working out with a personal trainer for the first time in his life. 
However, with the number of pounds he was packing, dieting and working out could only do so much — he needed to go under the knife. King was also candid about the fact that he was scared of the weight loss surgery. 
"I'm losing it. I want to run out of the room, hop on a train, and never come back," King said at the time, "But I can't back out now."
All in all, his steadfast commitment to how he wanted to regain control over his life aided his weight loss journey, which thus far has been pretty successful.