Carly Pearce Found New Love after Her Public Quarantine Divorce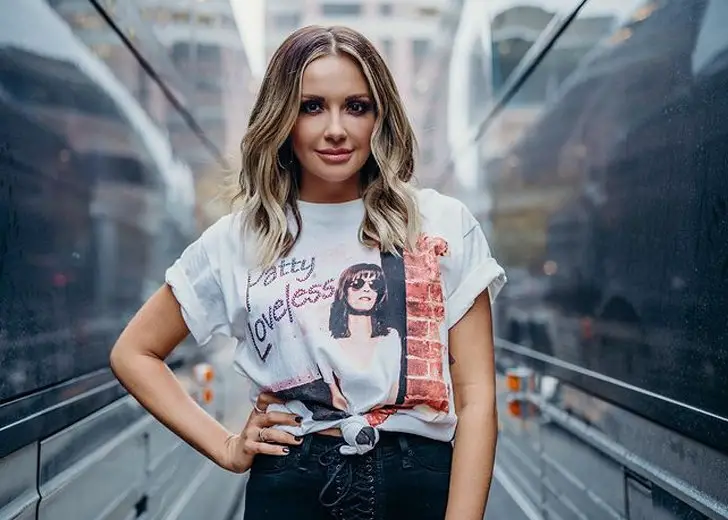 Carly Pearce made her relationship with boyfriend Riley King public after kissing him to celebrate being named Female Vocalist of the Year at the 2021 CMA Awards.
The singer and King, who is a former MLB player, met through mutual friends.
Just a day before the event, she had spoken about being more private in matters related to her personal life.
She explained she reached the decision because her divorce from her ex-husband, Michael Ray, was highly publicized.
"It's a big commitment to go public with somebody," she said on Audacy's Gunner & Cheyenne.
The 'Never Wanted To Be That Girl' hitmaker also added that she "learned the hard way" that being in the spotlight "can sometimes kick you in the butt."
Carly Pearce Met Her Boyfriend After Splitting With Husband
This year, Pearce has found much success as a musician, and the same can be said of her love life.
However, she had previously opened up about having a tough time coping with everything surrounding divorce from ex-husband Ray.
Pearce described the time as "single handedly the hardest year" of her life but said she didn't regret her marriage with Ray.
"I believe we don't go through things that we're not supposed to go through. My love was real. I will stand by that forever."
Pearce and Ray had confirmed they were dating back in July 2018.
When talking to Taste of Country, she shared she had a crush on him for a long time and commented on all his Instagram posts to get his attention.
"I've had a crush on him for a really long time and just always thought there was more to that pretty face, and there totally is. I did what every girl does in 2018, slid into the DMs."
On December 19, 2018, Ray proposed to Pearce at a beach resort in Tulum, Mexico, and they tied the knot on October 6, 2019. 
However, their marriage did not even last long. Just eight months after their marriage, Pearce filed for divorce from her husband in June 2020.
Speculation saying the pair's relationship deteriorated because of quarantining together surfaced, but she explained their marriage was already on rocky grounds the spring before.
This was not a flippant decision. This was something that I really took time to make sure I was doing the right thing. It was very clear that this was not the marriage I wanted.
Pearce had a difficult time dealing with her divorce, and she turned to pour her emotions into her songs.
She initially thought people wouldn't like her songs, but the love her songs received helped her.
While Pearce started dating boyfriend Riley King, Ray moved on with Tyler Reese, Travis Tritt's daughter.