Is Carly Lawrence Dating Bennett Sipes? New Boyfriend Revealed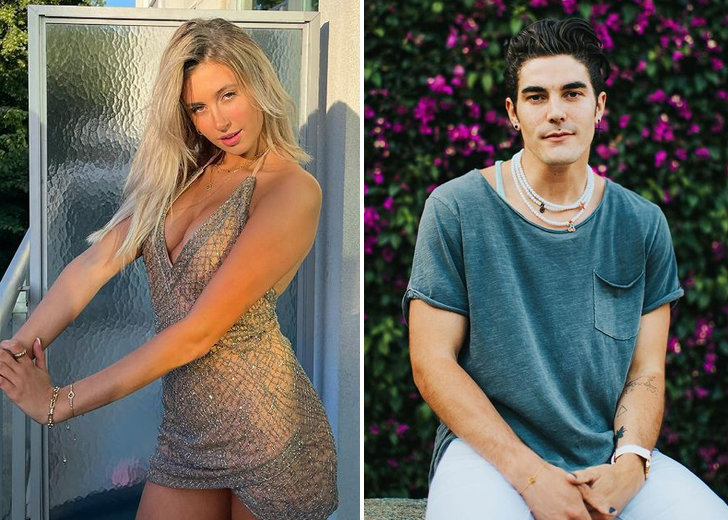 Carly Lawrence's mystery man is not so mysterious anymore. 
For the past few days, Too Hot To Handle star has been teasing her new boyfriend on her social media. However, she has not revealed his face yet. 
Looking at the comments and speculations, it seems like the Love Island contestant, Bennett Sipes, is her new boyfriend. Here is all the information that fueled the rumors. 
Is Bennett Sipes Carly Lawrence's New Boyfriend?
On December 19, 2021, Lawrence posted a picture on Instagram of her kissing a mystery man. His face was hidden by her hair, but his one hand was wrapped around her waist, and the other was holding a beer. 

Carly Lawrence with a mystery man. (Source: Instagram)
Lawrence captioned the picture as "Who's that?" and the entire comment section has her fans and followers guessing who her new boyfriend is.
Someone commented, "I know it's Bennett Spies." Many people guessed she was in a relationship with Sipes since they hung out a lot. 
Sipes had been commenting a lot under Lawrence's pictures on Instagram posts. Similarly, Lawrence's friends have also hinted that she might be dating Sipes. 
Nathan Webb, Lawrence's co-star from Too Hot To Handle, commented on the picture of her kissing a guy, "Man hasn't been home since Monday."
Garrett Morosky, a contestant from F Boy Island, replied to Webb, "hahahah buddy hasn't left. How's your new roommate."
While Sipes was not tagged on any of these replies, he responded to Morosky, saying Webb loved him. 

Carly Lawrence. (Source: Instagram)
Last weekend, Sipes was spotted together with Lawrence and had posted a couple of pictures on his Instagram stories tagging her. Lawrence had also done the same and posted pictures of the Love Island contestant.  
Therefore, it seems like Sipes is the mystery man and Lawrence's new boyfriend. But until the two confirm their relationship, everything is mere speculation. 
Sipes is not the only reality TV star who has been linked with Lawrence in recent days. She was spotted hanging out with Harry Jowsey and Steven Kelly, but once again, it is not sure if she dated any of them.
Carly Lawrence and Bennett Sipes Previous Relationship
Sipes joined Love Island on season 2 but did not find a partner. However, he was in a relationship with Leslie Golden, a contestant from season 3 of the same dating show. 

Bennett Sipes. (Source: Instagram)
On the other hand, Lawrence rose to fame after appearing in season 2 of Too Hot To Handle. She had a fling with fellow co-star Chase de Moor on the show, only to date Joey Joy later. 
The two were together until the end of season 2 of the show. Their relationship lasted for a couple of months, even after the reality series. 
Unfortunately, neither of the relationships could last. Sipes and Golden also broke up around that same timeframe as Lawrence and Joy. 
Therefore, Lawrence and Sipes might have started dating after breaking up with their previous partners.