Colombian Singer Carlos Vives and His Wife Claudia Elena Vásquez Open Up about Their 20 Year Long Relationship
"Our relationship is incredibly special. We complement each other well, we are partners in love, life and professionally," affirmed the wife.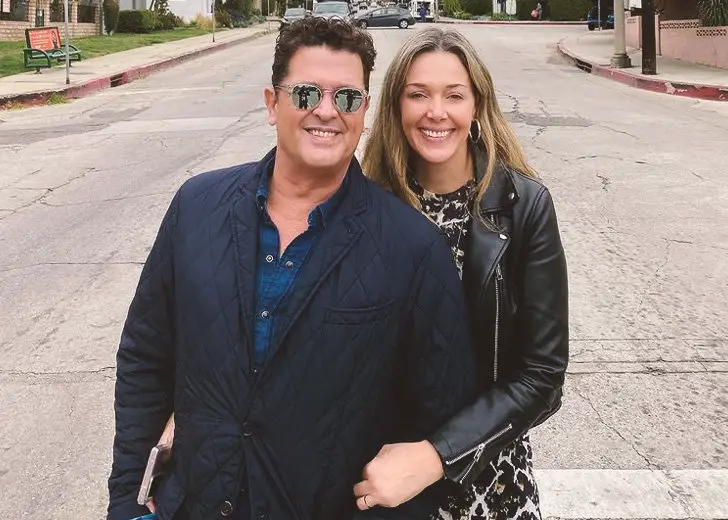 Latin American singer Carlos Vives and his beloved wife Claudia Elena Vásquez celebrated twenty-three years of love on August 18, 2008.
While the couple was visiting Hollywood just before their twentieth anniversary, Hola! magazine got an opportunity to have an open-hearted interview with them about their relationship thus far. 
Carlos Vives Believes In Love at First Sight
Right off the bat, turns out Vives is a believer of love at first sight because that was his opinion of Vásquez, the first time he laid eyes on her. But don't get it twisted, it wasn't Vives that fell in love on their first encounter. 
Vives told the outlet that he thought she had already fallen in love with him the first time they came face to face. Apparently, she even told him as much right then and there without even thinking twice. 
His loving spouse cordially confirmed his hypothesis when she was posed with the same question.
She recalled how she heard Vives' album Clásicos de La Provincia when she was in the first semester of Chemical Engineering. A schoolmate had played it for her. 
"I thought it was amazing. I'd always liked Vallenato, but to hear Carlos' interpretation in this album, was absolutely revolutionary," she added. 
Carlos Vives and His Wife Wouldn't Change a Thing
However, she would not meet her soulmate for a few more years. She first met Vives after she'd been crowned Miss Columbia. The two of them were on the same flight to Miami. They did not interact much, if at all, at the time, and she would only see her spouse-to-be five years later at a TV station she was working in. 
"I never imagined we would have a relationship after that meeting," she admitted, "A few days later he asked for my phone number and called me." 
They would then go on to talk every night, develop a friendship, and eventually fall in love. Vives admitted that he felt butterflies in his stomach when he saw her at the TV station. 
As for his beautiful wife, she felt the same butterflies six months later when they met to head out to shoot 'Déjame Entrar,' his album's first single.  
When asked if they wanted to go back 20 years and change a couple of things about their relationship, they unanimously replied, "No!"
Their First Date Was a Disaster
During another appearance, this one on Caracol Televisión's morning program, Día a Día, the Columbian singer and his wife relived their first date, which was a bike ride they took together. 
Admittedly, the former Miss Columbia wasn't much of a rider, but she took up his invitation anyway because she was so excited to see him. In her defense, she did not expect the singer to take her out on such a technical road with so many ups and downs. 
Sadly, the date resulted in a motorcycle accident where Vásquez suffered a fracture and was immediately transferred to a medical center. Despite the unexpected and unfortunate turn of events,  the couple acknowledged that it allowed them to spend the recovery time together. 
Vives did not leave her side for the entirety of her recovery, and so they bonded so very well that they have been inseparable since.