Carey Hart's Most Personal Tattoos for Pink and Their Two Kids
Hart is a tattoo fanatic and has dedicated some designs to his family members.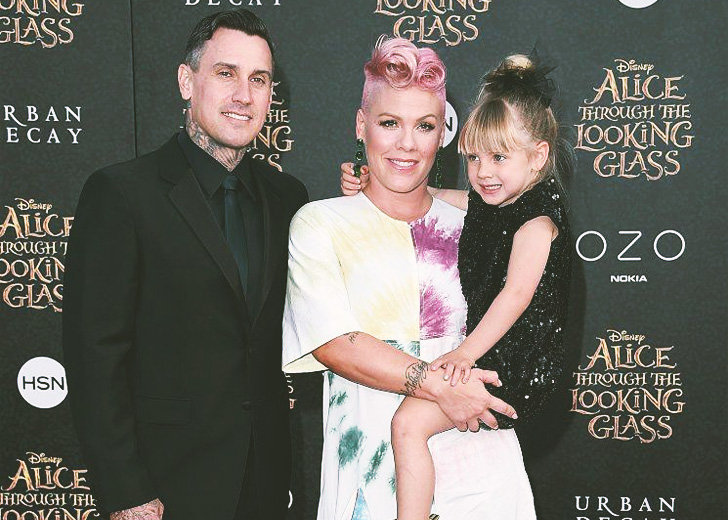 Former motocross competitor Carey Hart was into riding motorbikes and tattoos from a young age. But, while his family fully supported his first passion, they weren't supportive of the second.
As a result, Hart waited till his 18th birthday to get his first body art — a flaming skull with his race number 111. His friend's dad inked the design on his chest for 100 bucks. Following that, the California native started spending more time in the tattoo parlor, inking his body with designs he wanted. 
As of this time of writing, the 46-year-old has over 20 arts on his body.
While some of them speak volumes about his styles, others profess his love towards his beloved family members. He even has tattoos to honor his long-time wife Pink and his two children — daughter Willow and son Jameson.
Carey Hart's Tattoos for Wife
Hart and Pink married in Costa Rica in 2006, after dating for almost five years. They separated in 2008 and reconciled in 2010. Since the patch up, the pair have been living together, relishing their married life.
Their unconditional love for one another is pretty apparent in their interviews, socials, and, let's not forget, Hart's tattoos. In 2009, Hart inked a "day of the dead style" portrait of his wife on the back portion of his right lower leg.
He had the monochrome design completed in two sessions at his Hart and Huntington Tattoo shop inside the Hard Rock Hotel in Las Vegas. The ink encapsulated a skeletal-like Pink donning a floral fedora and floral patterns on her face.
Besides the portrait, Hart has also inked his wife's real name, "Alecia," on the lower side of his jaw. "The most painful spot I've been tattooed," he told Inked Magazine in June 2019. But, he added it was the most meaningful piece he had on his body. 
Tattoos Hart Has for His Kids
Needless to say, Hart and Pink are parents of two kids. They welcomed their first child, daughter Willow Sage, in June 2011 and then gave birth to their second child, son Jameson Moon, in December 2016. 
Hart has got tattoos inked on his body for both his kids. In the aforementioned interview, the off-road truck racer disclosed he inked an angel on the left side of his neck for his daughter. 
Below the design is a flower with rays emitting from it. Hart has tattooed his kid's name "Willow" on the flower. Right below it, he has professed his love for his son through another body art reading, "Jameson." 
Hart even has an ornate letter "J" marked on the backside of his left ear, which he claims is "for my little guy!!!" The famed racer had the design from the Nashville location of his Hart & Huntington Tattoo Co. in November 2019.
Hart has also inked an angel for his late brother and a scared heart on the back of his neck for his father.