Cardi B Slams Haters after Lizzo's Emotional Breakdown
Cardi B came out swinging in Lizzo's defense.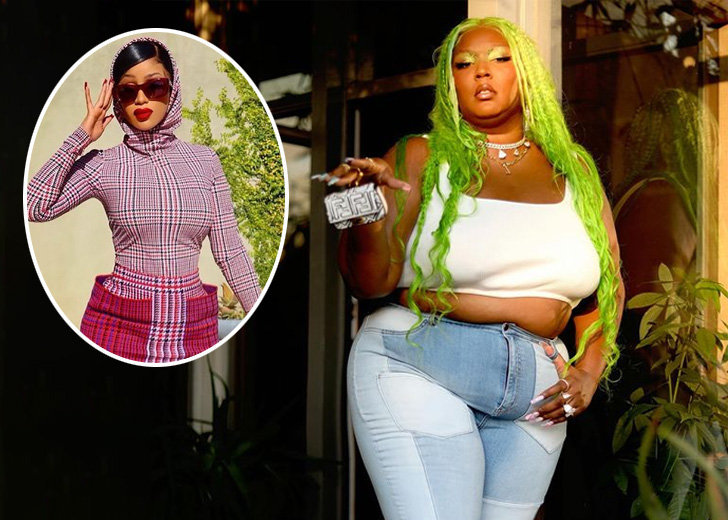 Lizzo is once again batting off haters, but this time she has Cardi B on her side. 
Just days after releasing their new collaboration, 'Rumors,' Lizzo, who should have been celebrating, broke down during an Instagram Live as she addressed her haters.
While the body-positive singer has had no problem telling her haters to skip rocks and learned to ignore the negativity, she admitted it was more challenging some days, and this time it weighed her down. 
She noted she was constantly working hard and trying to put out positivity in the world through her music. But she felt like she received more hate than love. 
I just think when I'm working this hard, my tolerance gets lower, my patience is lower, I'm more sensitive, and it gets to me.
The heartbroken singer also made a valid point, sharing that if people did not like her or her music, they could just ignore her, but these people went out of their way to belittle her instead, which she found baffling. She then thanked her supporters. 
Cardi B Defends Lizzo
Once Lizzo's clip landed on social media, Cardi B came out swinging in Lizzo's defense.
Cardi took to Twitter, writing that their song was doing great and haters needed to stop saying the song was a flop to "dismiss a woman's emotions on bullying or acting like they need sympathy."
She then noted that body shaming and calling her mammy was mean and racist. She also put out a second tweet and described the haters as "nerds looking at the popular table."
When you stand up for yourself they claim your problematic & sensitive.When you don't they tear you apart until you crying like this. Whether you skinny,big,plastic, they going to always try to put their insecurities on you.Remember these are nerds looking at the popular table. https://t.co/jE5eJw8XP6 — iamcardib (@iamcardib) August 15, 2021
But Cardi wasn't the only celebrity who came to her defense. 
Singer Chloe Bailey tweeted she was proud of Lizzo and reminded Lizzo that people talked about her because she had power in her voice and thanked her for inspiring her. 
Missy Elliott, who teamed up with Lizzo on the song 'Tempo,' sent the singer some flowers and a note which read: 'Once every few decades, someone breaks the mold. And you are one of those people. Continue to shine and be blessed through your next journey.'
Meanwhile, presenter and actress Jameela Jamil shared the irony of the situation, noting that Lizzo just made a song about people bringing women down, and Twitter still put out hate for Lizzo's talent and appearance. 
'Rumors' Music Video
Lizzo launched a brand new era with her 'Rumors' video. This is Lizzo's first official single since her critically acclaimed major label debut in 2019 with Cuz I Love You. 
The video, directed by Tanu Muino, sees Lizzo strut around ancient Greece surrounded by emblematic figurines, architecture, and ceramics. She stays on the theme looking like an ancient Greek goddess with gold pieces of jewelry, gold toga dress. 
Halfway through the video, Cardi B comes in portraying a Goddess sitting on her throne, adorned in body jewelry and a custom gold breastplate and gold attire. 
The video ends with Lizzo and Cardi B's epic dance scene, where they eventually turn into a piece of ancient Greek art. 
The masterpiece of a video premiered on Aug. 13 and already has racked up over 9 million views.