Caitriona Balfe Opens up about Her Secret Wedding to Tony McGill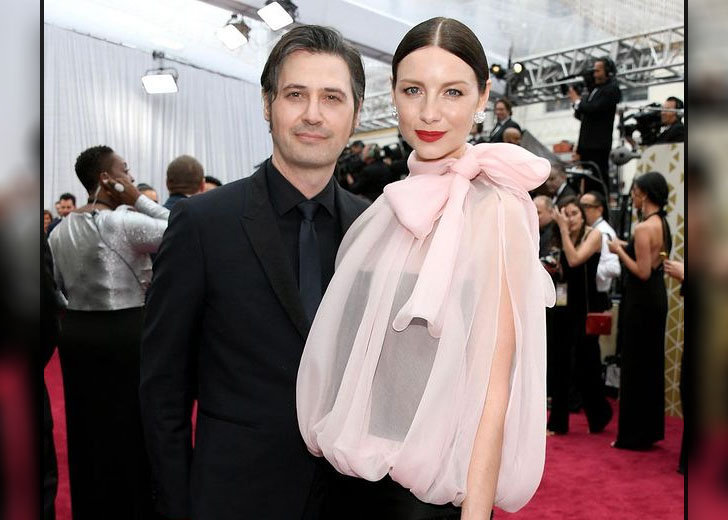 Caitriona Balfe and Tony McGill tied the knot in August 2019. The notoriously private couple, however, kept the wedding details close to their heart.
While they didn't announce the big news, People magazine reported the story, stating that the duo married at St. Mary's Church in Bruton, Somerset, in the United Kingdom. 
The news media even claimed that Rev. Louis Beasley-Suffolk had officiated the wedding and performed a Roman Catholic service. 
Supporting the reports, Balfe's long-time Outlander co-star, Sam Heughan, posted a picture of himself on Instagram. "Remarkable weekend," he wrote in the caption of the photo that saw him clad in a grey suit and a black tie. 
Despite the publicity, Balfe confirmed her marriage only three months later.
When a fan asked why she wasn't uploading her wedding pictures, the famed actress bluntly replied, "Cause that was for me, my husband and my family."
She also apologized and thanked the follower for love.    
Some more months later, she finally opened up about her secret ceremony.  
Caitriona Balfe and Tony McGill's Wedding 
In an interview with Inquirer in February 2020, Balfe got candid about her secret wedding to her partner. 
The interviewer asked Balfe what she could share about the big day.
In response, the famed actress mentioned she had managed to squeeze it on the weekend amid production.
She also added that the most beautiful thing about their big day as she had her very close family members and friends during the ceremony.  
Regarding privacy, Balfe shared that she just wanted to be happy in her life. "I want to stay sane," she added. 
The Outlander star also expressed how lucky she felt to have someone who made her joyful. "As long as I can keep those two things going well, then I'll be good," she quipped. 
Caitriona Balfe and Tony McGill Have a Kid 
It is not that Balfe and McGill were quiet only about their wedding day. In fact, they have remained private throughout their relationship. 
The duo started dating in around late 2014. However, their budding chemistry only made headlines when Balfe was spotted dancing with the music producer at a bar on New Year's Day in 2015. 
Following that, they made a rare public appearance at Jodie Foster's celebration of being inducted in the Hollywood Walk of Fame in May 2016 and at the Oscar Wilde Awards in February 2017.
By January 2018, the lovebirds were already engaged.
Balfe flaunted her engagement ring at the 75th Golden Globe Awards. "It happened over the break. I'm very happy," she told People magazine at the event.
Over a year later, the pair married privately and graced the 92nd Academy Awards as a married couple in February 2020. 
Then, in August 2021, Balfe shocked her fans and followers by revealing she gave birth to her first child, a son, with her husband.

Caitriona Balfe announced the birth of her son with her husband, Tony McGill, on August 18, 2021. (Photo: Caitriona Balfe's Instagram)
She uploaded a picture of her son's hand holding her finger and announced the news through the caption.
"We are so grateful for this little soul," Balfe penned. 
She shared she was in awe of him already and couldn't help but stare and wonder at all the possibilities of who he would become.
The mother-of-one also mentioned that the pregnancy was why she had been off the socials.
Since her child's arrival, Balfe has been active on her socials. That being said, she hasn't yet shared her son's pictures or his name.