Here's Why Buckethead Covers His Face with a Mask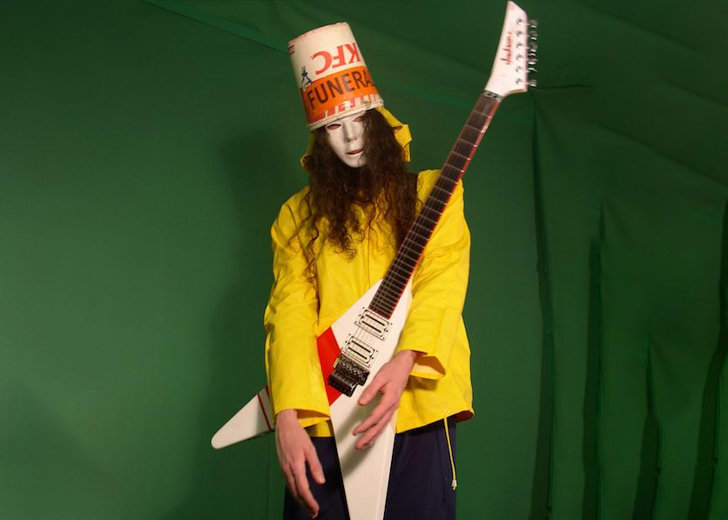 Buckethead is a beloved personality in the rock music scene. His persona is one of mystery and intrigue, and that has been the case for most of his life in public.
One thing that keeps his enigma alive is his infamous mask. The musician has worn a white mask throughout his performing years.
But why? Who is the person behind the mask, and what does Buckethead look like without a cover on his face?
The Origins of the Buckethead Mask
The name of the person behind the mask is Brian Patrick Carroll. He was born on May 13, 1969, in a southern California suburb. Disneyland was near, and it was his favorite place to spend time.
His favorite pastimes were books, games, collecting martial-arts movie memorabilia, and toys. He indulged in all these alone — he was an introvert, a shy kid.

Buckethead has never revealed his face in public, which has raised intrigue about his looks without a mask. (Photo: Twitter)
In his teenage years, he developed a fascination with guitars and started learning the instrument. Angus Young of AC/DC; the late Randy Rhoads of the Ozzy Osbourne band; and Swedish overdrive virtuoso Yngwie Malmsteen were a few he took inspiration from in his learning phase and years into his career as well.
But he was still a reserved person. Therefore, he developed a character he could hide behind on stage, and this is where the mask comes in.
The story goes that one day while watching Halloween 4: The Return of Michael Myers, he got his inspiration for his on-stage persona.
He went out right as the movie ended and got himself a Michael Myers-like white mask. That was the first half of the iconic persona.
The second half of the disguise came to him later that night. As he was eating from a bucketful of takeout fried chicken, he put his white mask on and then kept the bucket on his head.
He then walked to the mirror and just uttered, "Buckethead. That's Buckethead right there."
Carroll confessed to Guitar Player magazine (via MTV) that after this incident, he "wanted to be that thing all the time."
He was never the one with huge confidence to play on stage. Buckethead helped him ease that fear.
"Because I could do everything I liked doing as this character that I'm totally scared to death to do otherwise," he said during his appearance on the Coming Alive Podcast in 2017. And it wasn't just performing that Buckethead made it easier.
"It applied to all the stuff I like, like Disneyland and martial arts and dancing, all that stuff I liked," he added, confessing Buckethead had been a "great way to get all the stuff out."
Has Buckethead Ever Appeared Without Mask?
Almost everyone who knows about Buckethead has thought about seeing him without his mask and the KFC funeral bucket on his head. However, it does not seem like anyone has seen him without those on.
Loudwire once published a piece where they claimed to have an "Un-bucketed Buckethead," but even that picture seems to have been deleted.
Twitter is full of people who want to know how he looks in real life, but many also admire his ability to keep himself a secret.
Of course, Carroll, too, would be proud of the personality he created for the stage. He spent many hours perfecting his on-stage appearance that hides his face.
And he isn't too keen to reveal details about Buckethead, either. During an interview with MTV in November 2002, Carroll put on a whole-head rubber monster mask over his right hand, named Herbie, and said the puppet would answer the interviewee's questions.
And at the end of the interview, when asked about the mask, Herbie replied, "There is no mask," and ran off to the stage.