Brooks Nader and Husband Billy Haire Create a Balance of Attention
They found love in front of an NYC bar.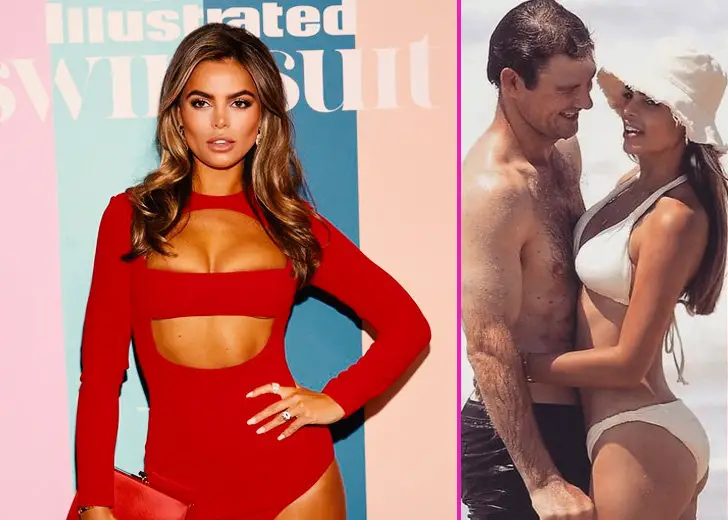 Brooks Nader is a well-known figure in the fashion world. She is an American commercial model who rose to prominence in 2019.
She has worked with major agencies like New York Models, NEXT Miami, LA Models, and Louisa Germany. However, she made headlines after landing the cover of the 2020 Sports Illustrated (SI) Swimsuit Issue.
She became a part of the Sports Illustrated family when she won the open casting call in 2019. Since then, she has been modeling for the magazine. 
Nader's professional career is well exposed to the public via magazines, websites, and social media. But when it comes to her personal life, she prefers to keep it under wraps. 
Who is Brooke Nader's Husband?
Besides her professional achievements, Nader enjoys a lovely marriage. She is married to Billy Haire, the current Vice President of Digital Sales & Partnerships at Maven. 
There is not much information available about the couple. Haire does not have social media, and Nader rarely shares about her personal life. 
However, one thing common between the pair is that both are involved with Sports Illustrated. Haire worked with the magazine for over seven years. 
He started in March 2012 as a Franchise Account Executive and was slowly promoted to Sales Manager and National Digital Director. He left the magazine in October 2019. 
Before Sports Illustrated, Haire worked at Discovery Communications for two years and eight months from August 2009 to March 2012.
He earned his Bachelor's degree in Science, Economics, and History from Bucknell University. Similarly, he graduated from New York University, Stern School of Business, with a Master's degree in Business Administration. 
Brooke Nader and Billy Haire's Wedding
Nader and Haire had an awkward situation the first time they met. They first met outside a New York City bar, Mr. Purple, where they were both waiting in line to get in. 
Unfortunately, Nader had not turned 21 yet, and her fake ID was rejected. As a result, the model could not get inside the bar, and Haire stayed with her. 
Since then, the pair started dating. Fast forward to October 2018, Haire proposed to Nader, to which she said yes. Then, after more than a year of engagement, the pair tied the knot on December 14, 2019. 
They had a traditional marriage in New Orleans, where they exchanged vows in front of their friends and families. The model looked beautiful as ever in her strapless and fitted wedding dress, whereas Haire wore a traditional black tuxedo. 
They got married at St. Mary's church, which is almost three centuries old. It was exactly what the couple was looking for, and they decorated the place with white flowers and decors with cream, gray and blush accents. 
After the pair exchanged vows, everyone headed to the reception area next to the wedding venue at Old Ursuline Convent. Paulin Brothers Brass Band performed for the cocktail-style reception.
The model changed her looks for the reception, where she wore another strapless dress. But this time, the dress had sequin embellishments and a fitter bodice with which Nader could show her stunning figure. 
The newlyweds had their first dance to 'The Way You Look Tonight' by Frank Sinatra. Then, they danced with their respective parents, after which the dance floor was open to all. 
After the reception, the pair had a cake-cutting ceremony. They had two cakes — a traditional white six-tiered cake and a three-tiered cake with Haire's favorite sports teams' emblems and the New York City skyline. 
Then, headed by the newlyweds, everyone walked with a second line march around the French Quarter. And finally, they ended the night with an "after-after" party at Lafitte's Blacksmith Shop Bar.