Brooke Burke's Four Children Are the Fine-Tune of Her Life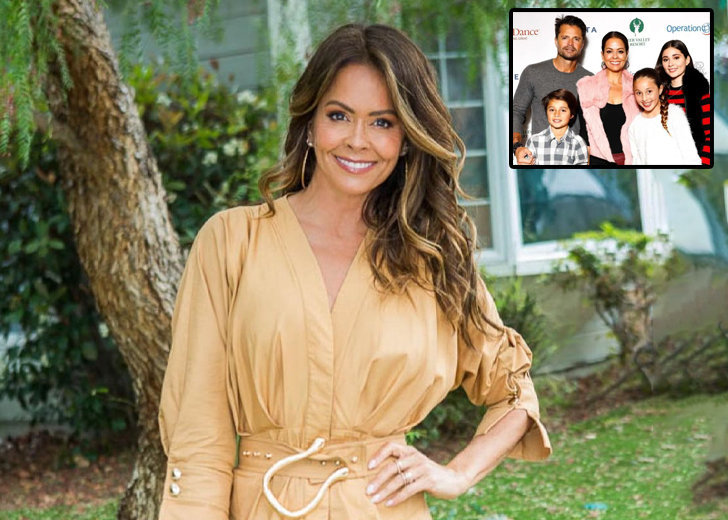 Brooke Burke is a proud mother of four — three daughters and a son. 
As the doting mother had admitted on record, she raised all of her children differently. Of course, raising the kids with her former husbands must not have come easy, but Burke makes it work. 
Burke co-parents her two oldest kids — Neriah and Sierra — with her first ex-husband, Garth Fisher, and her younger children — Heaven and Shaya — with her second ex-husband, David Charvet.
During an interview with Us Weekly, the mother of four talked about how her parenting skills were in a state of constant evolution. 
"Just when you think you figured it out, you got to tweak your rearing skills," she professed. 
That being said, Burke was an advocate of finding one's own way to raise their kids, whilst acknowledging how every mom would come up with their slice of advice. 
"Every mom's out there doing something better than you," she shared. "And I think we have incredible women's intuition and we really have to follow that."
These days her intuition has led her to have a better relationship with her exes, and she has a "working divorce" with them, such that they could provide the best parenting to their kids. 
Meet the wonderful children!
1. Neriah Fisher
The oldest of Burke's children, Neriah was born in March 2000. 
With her angelic voice and songwriting skills, the youngster operates a YouTube channel with close to fifty thousand subscribers backing her. 
On her channel, she uploads content like original songs, cover songs, and vlogs. 

Brooke Burke's birthday post for her daughter (Source: Instagram)
2. Sierra Sky Fisher
Two years younger than Burke's eldest daughter, Sierra, was born in April 2002. 
Sierra lives with her mother in their Los Angeles residence and the youngster is often the one to keep everyone in the loop regarding her and her sister's fun adventures, which she does via her social media. 
"Thank you both for raising us with all of your love," Burke's daughter told her on the occasion of mother's day over an Instagram post. 
3. Heaven Rain Charvet
"My twin … out of the four, probably Rain," the TV personality once told People (via Closer Weekly). 
Burke welcomed her third daughter in 2007, and she claimed that the two of them had quite the overlap, especially over their love for cuisine. 
Apparently, the mother-daughter duo spends quite a lot of time together in the kitchen. 
4. Shaya Braven Charvet
Last but most certainly not the least of Burke's children is young Shaya. 
Burke welcomed her only son with her ex-husband back in 2008. Much like his sister, Shaya also shares his mother's love for food. 
As per the reality star, his favorites include pasta with butter, Nutella on bread, and pizza through and through. 
Burke has gone on record to share that she wanted her kids to be innocent but not naive. 
"I'm so lucky that we have that relationship. I want to have that close relationship, not a friendship," she shared of her parenting. "I think that's dangerous with parenting, but closeness is super important."