Logic's Wife Brittney Noell Unveils Wedding and Childbirth Details
Brittney Noell and Logic share a son, Bobby.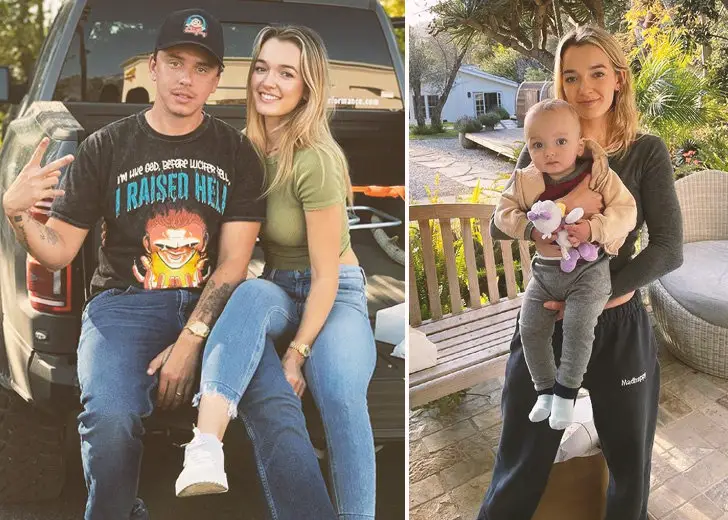 Born and raised in Los Angeles, Brittney Noell is a lifestyle blogger and entrepreneur best known for her marital relationship with rapper Logic.
A scroll down her social media, particularly Instagram, gives a hint of the amazing bond she shares with her husband. In recent times, her gram also features snaps of the coupe's newly born son, Bobby.
And since many of the couple's fans are interested in knowing details about their wedding or their baby's birth story, Noell has dedicated a few blogs to reveal those details.
"A lot of people have been asking questions about my wedding! What kind of cake we had, where it was, where i got my dress, did we use a caterer, etc," she wrote in the blog titled 'MY WEDDING DAY + HONEYMOON.'
Brittney Noell and Logic's Wedding Was Extremely Intimate
In her blog, Noell disclosed that her wedding with the Maryland-born rapper, which took place in September 2019, was highly intimate, simple, and straightforward.
The wedding was held in the couple's backyard with a limited number of guests. The two, however, arranged a fun reception for their close friends after the official wedding ceremony.
The blogger stated that she and her husband were not interested in doing too much and stress about it. All they wanted was to put on their rings and call each other husband and wife.
The cake for the wedding day was ordered from Susie Cakes while the catering was taken care of by the couple's friend, who runs a catering business. "It mostly consisted of finger foods that you could eat on the go," she added.
On the big day, Noell wore a white net gown with a floral design — the first dress she tried on at the store for the ceremony. Meanwhile, Logic was dressed in a black suit matched with a plain white shirt.
A couple of days later, the couple rented a yacht and left for their honeymoon in Catalina. "We drank...ate some amazing food, swam in the ocean, walked around Catalina, and of course played a ton of chess," she shared.
Later in her blog, Noell stated that she and her husband didn't share the details of their wedding earlier because they both valued their privacy and wanted their relationship to be within themselves.
Brittney Noell Loves Her Baby Boy's Birth Story
In April 2021, Noell took to her blog to share her son's birth story, from when she felt contractions to how she pushed for about 20-30 minutes before her baby finally came out.
She recalled feeling some contractions around lunchtime when she was helping her husband with a job he had on February 5, 2020. Since she was in a lot of pain, they decided to go to the hospital.
But in a somewhat odd turn of events, she also wanted to have her favorite sushi before entering the hospital; therefore, they quickly rushed to the restaurant and then went to the hospital. 
We got to the hospital I believe around 3:00pm. I was checked in to see if I was actually in labor, and it turns out I was. I was about 2cm dilated so they brought me to the labor and delivery room and got us all situated.
After trying hard to push her baby out for hours under the doctor's supervision, she finally welcomed her baby boy after around 2:30 am on February 6. Noell stated the labor pain felt worth it once she met her beautiful baby.
On February 5 this year, father Logic took to his Instagram to wish his son his first birthday, posting an adorable snap of the little one.