5 Things to Know about Brittney Griner's Relationship with Wife Cherelle Watson
After a messy divorce, NBA player Brittney Griner found "the one" in Cherelle Watson.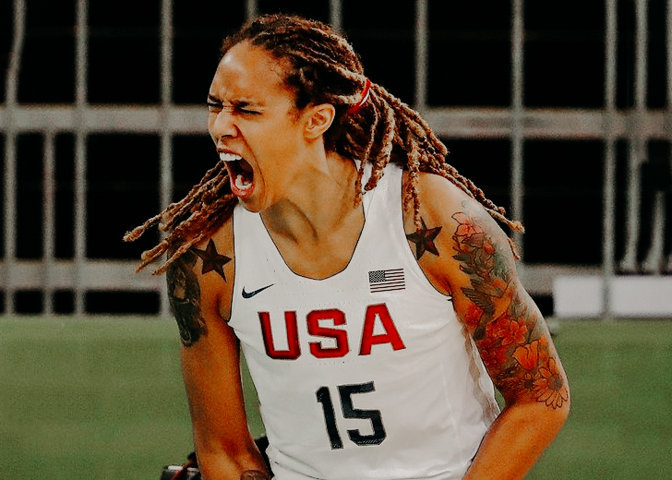 On Sunday, August 8, the United States women's basketball team beat Japan, 90-75, in the gold medal game at the Tokyo Olympic Games. 
This is the seventh consecutive gold medal for Team USA, and their Olympics winning streak is now up to 55 games.
Phoenix Mercury center Brittney Griner led the way with 30 points. Many fans took to Twitter to congratulate the US team and commend the basketball player for her performance in the game. 
Griner's terrific performance aroused many fans' interest in her life outside the basketball courts. Here's everything we know.
Griner Is Married to Cherelle Watson
Griner is currently married to Cherelle Watson, who has taken up Griner's last name according to her Instagram. 
Watson is a blogger by profession and has over 30,000 followers. Her bio reveals she is currently a law student and a former Baylor University alumni. 
According to her LinkedIn profile, she got her Bachelor of Applied Science degree in Political Science and Government in 2014. Her minor was Family and Child Studies.
The couple often shares pictures of themselves and appears very much in love. 
Griner Met Watson at Baylor University
Griner met Watson when they were studying at Baylor University. In an old anniversary post on Instagram, the NBA star recalled the first time she met Watson and explained how she was immediately blown away by her beauty.
The two started dating and later split but rekindled their romance after Griner separated from her wife Glory Johnson, a fellow basketballer, in 2015 after a 28-day marriage.
Griner's Messy Divorce
Before falling in love with Watson, Griner was embroiled in a very public and bitter divorce with Johnson. The news of their separation came a day after they revealed they were expecting. 
In the days leading up to their wedding, domestic violence allegations surfaced against Griner, and she and Johnson were both detained following a brawl at their house. The gold medalist admitted she made a mistake, but not her ex-wife. 
This left the WNBA player bitter, and eventually, after their wedding, she filed for divorce. She also claimed that Johnson cheated on her and refused to be involved in the pregnancy, but the judge had different plans. 
She was ordered to pay monthly child support for the two IVF twins Johnson gave birth to after their divorce.
Griner Engaged Again
Three years after her divorce from Johnson, Griner proposed to Watson. She took to social media to announce the happy news and show off Watson's beautiful diamond ring.
The athlete gushed about how Watson stood by her through thick and thin. Watson also shared her delight on social media, saying that it was a blessing to have Griner in her life.
Griner and Watson on Having Kids
On July 17, the duo celebrated their anniversary and took to social media to write a heartfelt tribute to each other. In her post, Griner thanked Watson for pushing her to be a better person and helping her through her dark days. 
Meanwhile, Watson took a light-hearted approach and talked about how it would be the two of them until they had kids. Although she revealed little about their plans to become parents, it appears they might have given it some thought. 
The happy couple seems genuinely in love, and it looks like for Griner, the second time is a charm.