Who Is Brian Ortega's Girlfriend? — Here's What You Need to Know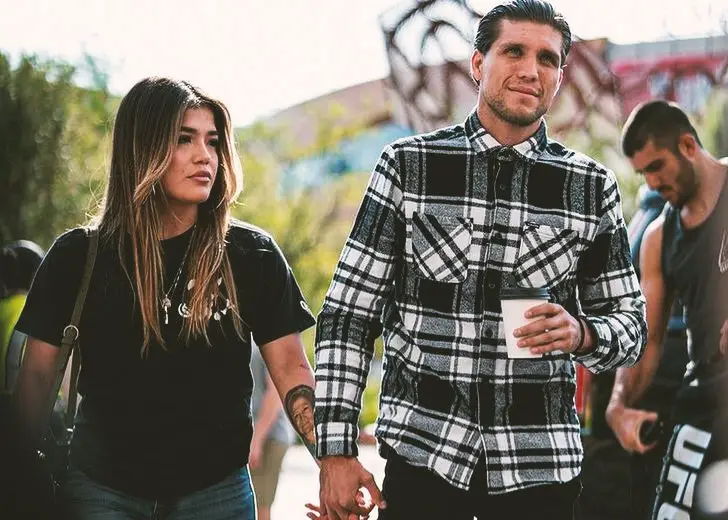 Brian Ortega is head over heels for his girlfriend and feels that he has been living the life he loves since being in a relationship with her.
On November 30, the professional mixed martial artist took to Instagram to post a video of him and his new girlfriend and expressed his love for her. 
In the video, he slept on her lap while she tried to give him a neck massage.
"After she almost broke my Neck in training @hempfusion came in clutch!!!! Living the life I love with my partner in crime . Life is good," Ortega captioned his post.
His close friends and fans were impressed to see the chemistry between them, as they wished them the best going forward in their relationship.
"Awww the way you look at her melts my heart...les deseo lo mejor del Mundo," a fangirl commented, while another chimed, "U guys always make me feel jealous with your adorable videos together!"
But Who Is Brian Ortega's Girlfriend?
It turns out Ortega's new girlfriend is a fellow UFC superstar, Tracy Cortez.
The two reportedly started dating in early 2021, with Ortega making the relationship Instagram official in July 2021.
He posted two stunning pictures of the couple, writing, "Every king has their queen."
On the same day, Cortez also grammed the exact pictures and implied that she would back her beloved one for life.
According to First Sportz, the two connected after the Los Angeles-based fighter commented on one of her Instagram posts, saying, "[expletive] it, ima shoot my shot."
Since making their relationship official, both of them have regularly posted pictures and videos with each other.
In addition to their shared interest in MMA, Ortega, and Cortez also come from a similar ethnic background. Both of them celebrate Mexican culture and also display the Mexican and American flag emojis in their bios.
To mark the occasion of Mexican Independence Day in September this year, Ortega even posted an adorable video of the couple dancing together on Instagram.
Brian Ortega Was Previously Married to Stephanie Roberts
Before his relationship with Cortez, Ortega was famously married to his longtime girlfriend, Stephanie Roberts. The couple also had two children together.
When he made his relationship with his now-girlfriend official on Instagram, some of his followers were disheartened. 
"What happened to the mother of his children? I thought they were together for hella years. Anyone got the tea on that?" one follower asked in the comments.
Well, Ortega and Roberts were in a long-term relationship and got married at one point.
Even though it is unknown how many years they were together and when things ended, their Facebook photos date back to as early as 2012.
On December 25, 2014, Roberts took to her Facebook to share a family picture featuring Ortega, herself, and their two children. They were apparently celebrating Christmas together.

Brian Ortega with his ex-wife Stephanie Roberts and their two kids. (Source: Facebook)
Her last Facebook post with Brian was in 2019, when she shared a link to his foundation.
Speaking of Roberts, she graduated from West High School in 2009 and then studied kinesiology at El Camino College until 2012.
However, despite the private separation, Ortega has been open about his kids and often posts pictures of them on his social media.
In his November 17 post, he mentioned that his kids completed him.