Brett Gelman's Ex Wife Is Still His Best Friend and Fashion Mentor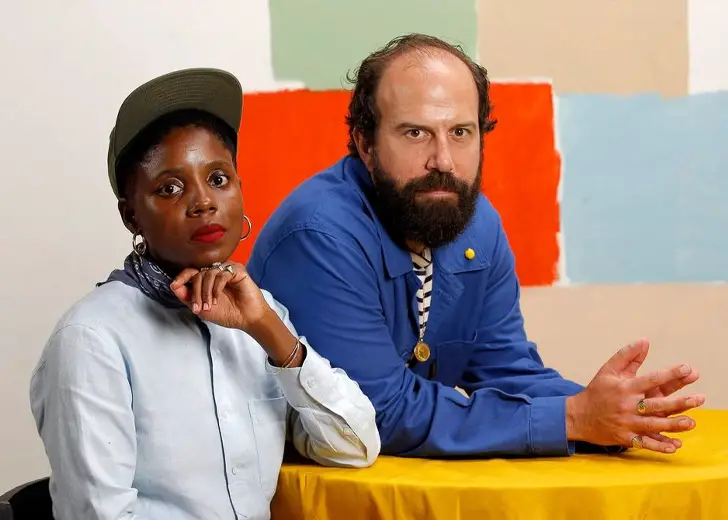 Brett Gelman was married to his ex wife, Janicza Bravo, for over three years. They started off as co-workers, became friends, and eventually a couple.
But, unlike many Hollywood marriages, their relationship did not end after their divorce. They still remain on friendly terms and communicate regularly.
They remain so close that she remains his fashion mentor, something she became right after they started dating.
Brett Gelman's Ex Wife Taught Her the Ropes of Fashion
Gelman and Bravo got together after first meeting on a commercial shoot for the New York Lotto. That was a while before they got married in 2015.
The Stranger Things actor was always a lover of "loud clothing," but he did not know the intricacies of style. While talking to Esquire in October 2019, he revealed how that changed for the better once his now ex wife entered his life.
"I had no sense of style or direction. That really came to me when I met Janicza Bravo, who is my ex-wife," he said. When they first met, he was wearing "brown, polyester Levi's from Urban Outfitters."
WHAT: Lemon, WHO: Janicza Bravo & Brett Gelman in attendance, WHEN: 7:30PM tonight 06/08, WHERE: Texas Theatre, WHY: 😂🍋🙃🍋💛🍋 pic.twitter.com/jVnwgrLh9s — Oak Cliff Film Fest (@filmoakcliff) June 8, 2017
So once enough time had passed in their dating life where she could be brutally honest with him, she asked him to dump his old clothes. "Let me take you to a place called A.P.C. and get you some [expletive] raw denim," she told him.
Gelman gushed about his ex spouse and even commended her tough criticism. "And I welcomed it; I didn't feel defensive at all," he added.
They had already finalized their divorce when the interview was taken, but the split did not destroy the friendship they had. He called her his best friend and revealed he still took fashion advice from her.
"even now that we're not together, I still text her photos of me where I'm going out that day," he admitted. "I'll ask, 'How does this look? Is this vintage Hawaiian shirt good with these black jeans?'"
And she was still brutally honest with him, even after a divorce. She would suggest him what color combinations to work with. Bravo ignited his passion for being well-dressed, which he admitted had only grown even if she wasn't around as much.
Brett Gelman and Ex Wife Janicza Bravo's Life Together
Gelman and Bravo began as collaborators. During a Reddit AMA, the actor revealed how she got him to work with her.
"We decided to work together because she asked me to," he confessed. "and I can never turn down a genius. That is a worthy nightmare to have!"
After working together and dating for a while, they finally got married on December 22, 2015. Their Las Vegas wedding registry reveals they got married at 5 pm at the Main Chapel.
As for their collaborations, the most famous of them all is Lemon, a 2017 film that she wrote alongside him and he acted in as the main character, Isaac Lachmann.
They had been sitting on the draft for the movie for five years before finally taking a leap of faith to push it into production.

Brett Gelman with his ex wife, Janicza Bravo. (Photo: Twitter)
On their first attempt at making the movie, a lead actor dropped out, and they lost their financing. And even when the movie was finally done, the afterparty was a mess, too.
"We are magnets to things not running smooth," Gelman quipped at their situation during a 2017 interview with Screen Anarchy alongside his then wife.
Bravo kept being dismissed throughout the process of bringing the movie to life, and people even thought Gelman was the one who wrote the script. And even though she was fine with the misconception after a while, Gelman kept stressing that it was the other way around.
The movie was an amalgamation of how they saw the world in their own ways. It was a joint project.
Following years of togetherness, both professionally and romantically, they divorced in December 2019. But a legal separation has not kept them apart.
As for his current girlfriend, he seems to be dating Ari Dayan, a musical artist. He even called her his "love of loves" in his 2022 Valentines's Day post.
They started dating on December 3, as his anniversary post from 2021 suggests, and she features fairly often on his Instagram.
In addition to this, he also directed her music video for 'LOVE.' Theirs, too, seem to be a connection on both personal and professional levels.