Is Brett Eldredge Married? Exploring the Country Singer's Romantic Life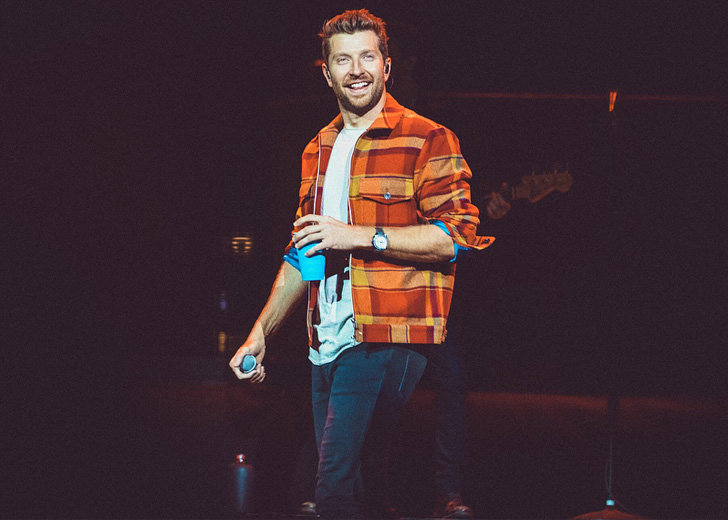 Brett Ryan Eldredge, commonly known as Brett Eldredge, is a famous country music singer, songwriter, and record producer.
He has delivered five No. 1 singles on the Billboard Country Airplay chart, three of which came from his debut studio album, Bring You Back. The three singles are 'Don't Ya,' 'Beat of the Music,' and 'Mean to Me.'
Is Brett Eldredge Married?
Eldredge has kept his private life under wraps, because of which it is unclear whether the country music singer was previously married or ever had a wife.
However, several online tabloids report he is presently single. The 35-year-old singer has often been linked with several women.
In 2018, when he and Duck Dynasty actress Sadie Robertson appeared together in his hit single 'The Long Way,' fans started speculating if they were dating each other.
According to The Sun, she said, "Brett's amazing," to Entertainment Tonight at the time of their shoot.
She continued to speak about their companionship, saying, "We had the most fun that day. We just goofed off... he's a goober, he's hilarious. That started a friendship that will hopefully last a long time."
She elaborated, "Everybody thinks we're dating. We just had so much fun together. Everybody was like, 'No, you were really laughing.' We really were. We really did have a great time. But I don't know, girl, it's too complicated."
However, the rumor was never confirmed. Robertson later married Christian Huff in 2019 and subsequently welcomed the pair's first child, Honey James Huff.
Brett Eldredge Says Carly Pearce Is 'Awesome'
In March, singer-songwriter Carly Pearce said that she was not looking to mingle — following her divorce from fellow country singer Michael Ray last year — while speaking in an interview with Gunner and Cheyenne.
But when the pair asked her if she had any interest in Eldredge, she changed her previous response and said, "I mean listen, he would be my exception."
Gunner and Cheyenne soon met the country music singer and asked his thoughts on Pearce's comments. He responded to the question by saying that her remark was as awesome as she was.
"That's awesome, she's awesome, that's amazing," he said while remembering his memories with her. He added, "She opened on tour when I was with Blake Shelton a few years back and is a great person and a great singer."
Brett Eldredge Wants 'Soul Deep Kind of Person'
Speaking with Pop Culture in March 2018, the singer expressed that his ideal girlfriend or his partner, so to say, would be a "soul deep kind of person" and someone with an amazing heart.
"What I'm kind of looking for is to find that soul deep kind of person, with an amazing heart that I could really get to know and probably take it slowly," he stated.
The famed singer further added, "Just kind of take the long way around the town—that's kind of where I am in life. So I'm definitely more open to it than I ever think I was, and I'm not afraid to talk about that."
His statement suggests that he is ready to dive into a serious relationship if he comes across his ideal partner.