'Duck Dynasty's Sadie Robertson and Husband Christian Huff Welcome Baby Daughter
Congratulations are in order for Sadie Robertson and her husband, Christian Huff.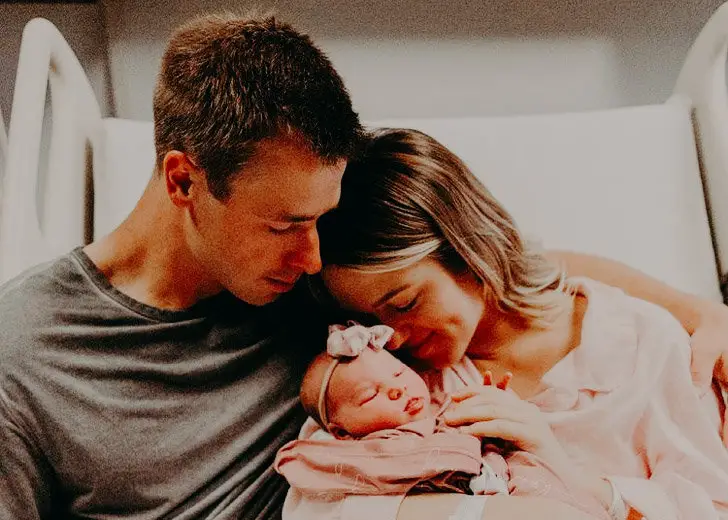 Sadie Robertson is a mom!
On May 12, The Duck Dynasty alum and her husband Christian Huff welcomed their first child together — daughter Honey James Huff. The new parents shared the exciting news and the first family photos on her Instagram following the birth.
"We saw a million little miracles yesterday - the best one being this girl right here... Honey," she captioned the post. "the pure goodness of God story to come, but I'm way too occupied right now by cuteness."
The new dad also shared the new photos of his family on his Instagram while welcoming Honey into the world. Just last month, his wife had revealed that they would name their daughter Honey and shared the sweet meaning behind it.
Inspired by Bible Verses
Robertson did not wait around for her daughter to be born to share her baby's name with the world. The former Dancing with the Stars contestant announced her daughter's name via an Instagram carousel on April 23, along with a heartfelt caption.
The reality star and her husband had initially not planned to reveal the name days ahead of her pregnancy. Still, fake social media accounts posing as the couple was releasing false news, and the couple decided to set things straight. She started the post by clarifying that she rather her followers hear it from them. 
Robertson shared the special meaning behind the name, quoting the Bible passage Proverbs ­16:24: "Gracious words are like HONEY, sweetness to the soul and health to the body." She explained that she always loved this verse because Honey is sweet and has a vital healing component. 
According to the new mom, the word "honey" is also a reminder of her first date with Huff. She recalled that they went to pottery together, and on her cup, she wrote "honey," a nod to what she called her husband. She also shared a photo from the romantic outing. 
On Testing Positive for COVID Amid Pregnancy.
While the new mother delivered her baby safely, she had a difficult pregnancy journey when she tested positive for COVID while pregnant with Honey. Calling her experience one of the most arduous experiences, Robertson revealed on October 26 that she was hospitalized after getting very ill with the virus. 
The then mom-to-be stated that she struggled with her health but confirmed that thankfully she was on her way to a full recovery and let fans know that "baby Huff" was healthy. Through her health battle, Robertson also told her almost 4 million followers that she learned new lessons from the challenging health battle she faced.
She also credited her dependency on Jesus for helping her overcome the sickness and expressed concern for others who are suffering from COVID-19. She concluded the post by stating that she planned to share more details of her experience on a podcast.