Bray Wyatt's Marriage with First Wife Ended on a Bad Note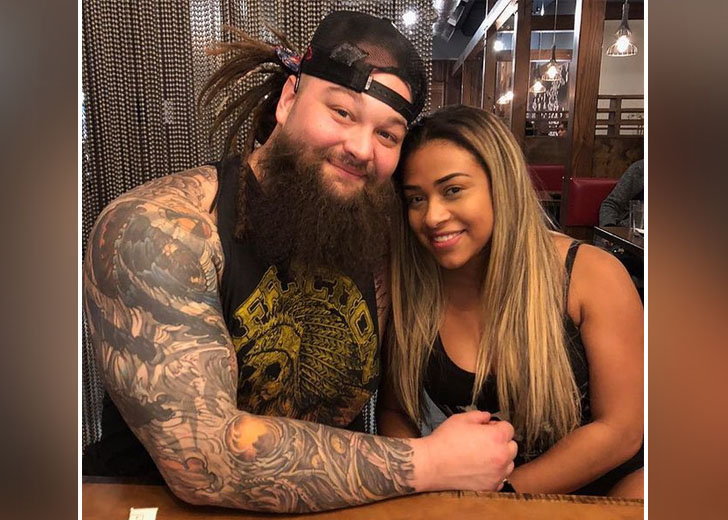 Bray "The Fiend" Wyatt signed with WWE in 2009 and has been terrorizing everyone in his sight ever since. 
As a third-generation professional wrestler, he successfully carried the torch as a two-time WWE Universal Champion and a one-time WWE Champion, SmackDown Tag Team Champion, and Raw Tag Team Champion with Matt Hardy.
After finding success in the ring and his release from WWE in July 2021, he moved on to acting. Unfortunately, like other professional wrestlers, Wyatt has made headlines in the past few years because of his love life.
Bray Wyatt's Marriage with First Wife 
In 2017, Samantha Rotunda, Wyatt's wife, filed for divorce, alleging he had cheated on her with ring announcer and former wrestler Joseann "JoJo" Offerman. 
The couple were college sweethearts and had tied the knot in 2012. They welcomed two daughters into the world, who were 6 and 4 at the time when Wyatt walked out on them. 
According to divorce documents filed in Hernando County which were obtained by Daily Mail, Rotunda accused Wyatt of having an affair. It was reported that JoJo was the woman Wyatt allegedly had an affair with, even though she was not explicitly named in the documents. 
Rotunda's lawyer, Ray Rafool, claimed that they had "obtained phone records showing that Wyatt is maintaining 'continuous contact' with Jojo." The divorce documents also noted that Wyatt and his former wife had been separated since March. 
Bray Wyatt Denies Allegations
However, Wyatt denied the allegations and claimed Rotunda made "defamatory statements about the husband to several people in the community to ruin his reputation." He also accused her of lying on social media to ruin his business ventures in the entertainment industry.
Wyatt requested an injunction to force his wife to keep their split private. Rotunda demanded $15,000 per month in spousal and child support and was awarded a temporary monthly income of $14,735 and a $50,000 one-off payment to cover legal expenses.
But according to reports, the wrestling champ refused to pay up but was spending on jewelry and women's swimwear, among many other things. Rafool iterated that the wrestler needed to own up to his responsibilities. 
Bray Wyatt and Joseann "JoJo" Offerman's Relationship
Although Wyatt denied having an affair with Jojo, he later confirmed their relationship. 
A year after Rotunda had filed for divorce in March 2019, Wyatt and Offerman went public with their relationship. This confirmed Rotunda's allegations, and the couple announced they were expecting a child when they went public. 
On May 18, 2019, their first child, Knash, was born. Wyatt also revealed that his WWE colleague Braun Strowman was Knash's godfather. A year later, in May 2020, they announced the birth of their daughter, Hyrie. 
And despite the relationship resulting in divorce for Wyatt, the couple appears to be very much in love to this day.