Brandon Marshall and Wife Michi Still Have a Strong Marriage — A Look at Their past Turmoils
Marshall and Michi were arrested twice for violent confrontations.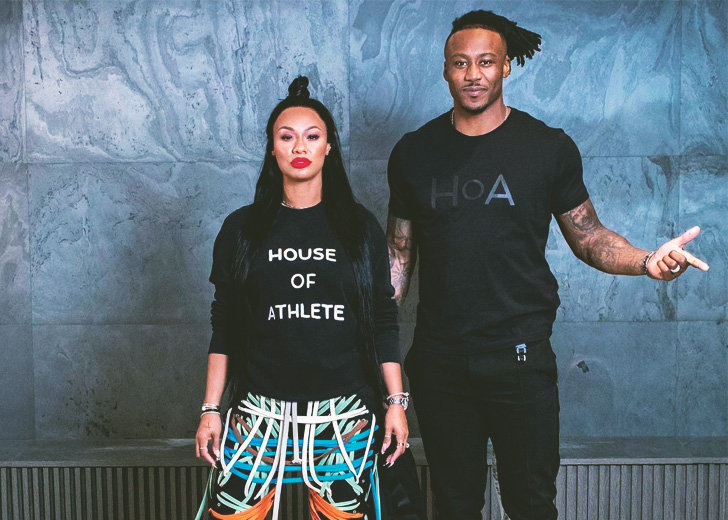 April 2021 marked the 11th marriage anniversary of former football wide receiver Brandon Marshall and his wife, Michi Nogami-Campbell. The pair tied the knot on April 1, 2010, and have been together ever since. 
Having said that, their relationship went through a fair share of tribulations initially. Here's a rundown on what went wrong and how the couple coped with the challenges. 
Marshall and Wife Had a Rough Start in Relationship
Marshall and Nogami met at the University of Central Florida. Although the couple went to the same university, they noticed one another only during a student union. And the former NFL player fell head over heels in love with Nogami at first sight. 
"She's going to be my wife," Marshall had confidently said to his friend before approaching the booklover. Following the brief encounter, the pair became friends and soon started dating.
But they broke up after dating for a semester. Then, two years later, Nogami heard of Marshall at a nail salon of their mutual friend. She found out that he was still talking about her every chance he got.
Without delay, she called him, and the pair reconciled. Following that, the forensic behavioral specialist left her job and moved to Denver to be with her partner. Then, in February 2009, the athlete proposed to his muse in front of her family members. 
But just weeks after the engagement, a police officer charged Marshall with disorderly conduct in Atlanta, Georgia.
The pair was having an "intense conversation" outside Marshall's house before things turned violent. Then, the duo became physical, fighting, kicking, and punching one another. 
Later, the charges were dropped, and Marshall was released on a $300 bond. 
Nogami Stabbed Marshall in 2011
A year after the ordeal, Marshall and Nogami tied the knot in Miami, Florida, on April 1, 2010.
Everything seemed to be going well in their relationship after the wedding. However, the shocking news of Nogami stabbing her husband in the abdomen surfaced out on April 23, 2011.
In the wake of the incident, The Broward County Sheriff's Office arrested the 26-year-old on a domestic violence charge of aggravated battery, while they rushed Marshall to an Intensive Care Unit. They eventually released her from jail on a $7,500 bond.
Then after interrogation, Nogami confessed she used the kitchen knife out of self-defense. But later, the then-Miami Dolphins wide receiver told authorities he fell on a broken glass vase. 
In light of differing statements, the court dropped all charges against Nagomi in July 2011. 
Do Marshall and His Wife Have Children?
Despite damaging conflicts in the past, Marshall and his wife have now worked out their differences and fortified their marriage. They have also welcomed kids into their family. 
On February 5, 2015, Marshall announced that his wife had given birth to twins six weeks earlier. He even highlighted that his partner had already bounced back to her pre-baby weight. 
However, neither Marshall nor Nogami have ever shared pictures of their kids on their socials. That said, Nogami has introduced herself as a mother in her Instagram bio.