Brad Keselowski and Wife Paige Had Their First Kid before Marriage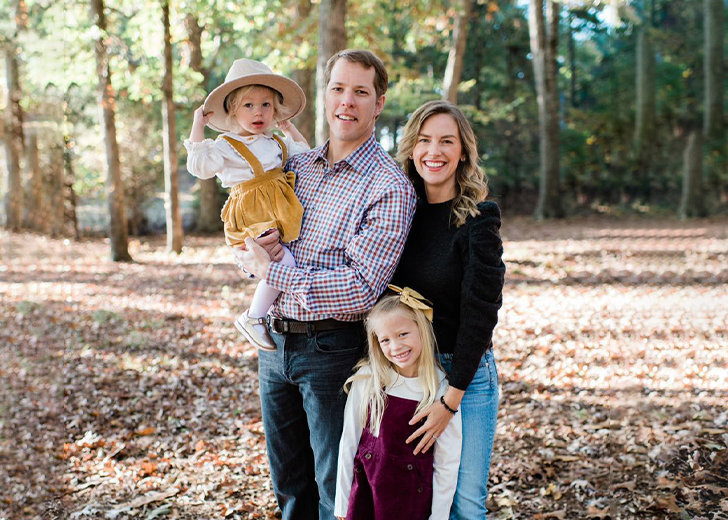 Brad Keselowski and his wife Paige White gave birth to their first child out of wedlock. 
They had started dating in 2012. Three years later, the usually private Keselowski announced on his blog that he and White were expecting their first child. 
He admitted his profession had left little room for privacy but still noted his daughter "hadn't signed up for any of that." He requested privacy for his baby.
Further, Keselowski also addressed the fact that he was having a child before marriage.

Brad Keselowski with his wife Paige White and kids. (Source: Instagram)
"I know that we're not doing this in the traditional order of things," he remarked, stating he was the happiest he had ever been and credited his partner.
He added both their families supported their situation.
Following the announcement, the pair had their first child, daughter Scarlett, on May 19, 2015. 
Months after, the 2012 NASCAR champion ended 2016 on a high note. He proposed to White and shared he was more nervous than driving 500 miles. 
Meanwhile, White took to Twitter to say the moment was "everything [she] could have hoped for."
Brad Keselowski's Marriage with Wife
Two months after the proposal, Keselowski and White tied the knot. 
The Team Penske driver posted their wedding video on Vimeo and tweeted the link. He wrote, "Last night will live on forever, an amazing night w/my bride @PaigeKeselowski and our family/friends."
He also uploaded some fun and silly snippets from the celebrations.
The duo held a fairly private ceremony and shared they were going on a quick honeymoon before heading to Daytona 500.
Congratulatory messages from the NASCAR world and their fans flooded the post's comment section. 
His NASCAR peers also offered Keselowski some great marriage advice.
Matt DiBenedetto iterated a happy wife was a happy life, while Joey Logano joked he could either be happy or be right. It was up to him.
Meanwhile, Kyle Busch, who had struggled to get pregnant with his wife, Samantha Busch, noted being married meant Keselowski could no longer only focus on his career.
The NASCAR driver needed to spend time with his wife and family. 
We are not sure if the racer took the advice, but the couple seems pretty happy so far, as per their social media updates. 
Brad Keselowski and Paige White Welcomed Second Child
In December 2019, the couple welcomed their second child, daughter Autumn.
Keselowski announced the birth of their newborn and posted a family photo on Twitter.
Months ago, Keselowski had opened up about the couple's pregnancy. He said they were extra careful with the second pregnancy because of the health scare they had with their first kid. 
A month after Scarlett was born, the doctors told her she could die at any moment. She was diagnosed with Laryngomalacia, a congenital softening of the tissues of the larynx above the vocal cords. Fortunately, she recovered after surgery. 
Keselowski shared he tried to be as supportive as possible, saying her birth weighed on them. But despite the challenges, he was determined he was "going to do the best I can to be a responsible, great parent."