Peacock's 'Born for Business' Gives Insights into the Untold Stories of Entrepreneurs with Disabilities
'Born for Business' features four entrepreneurs with disabilities: Lexi Zanghi, Qiana Allen, Collette Divitto, and Chris Triebes.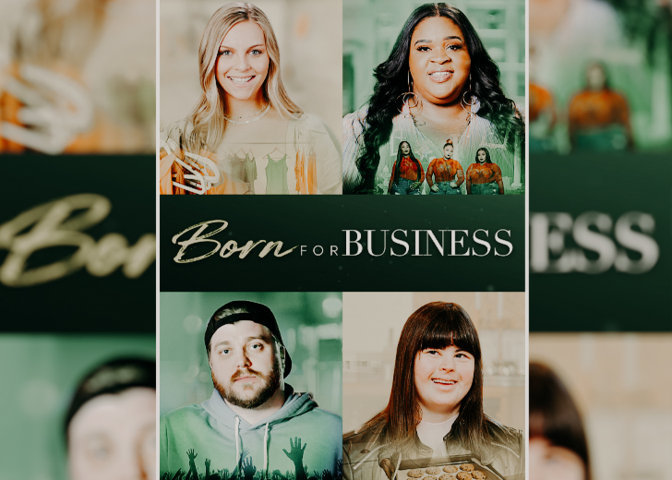 Peacock's brand new series Born for Business is premiering tonight, on August 23, 2021.
Produced by Bunim/Murray Productions and Shopify Studios, the powerful docuseries follows four entrepreneurs with physical, cognitive, sensory, or mental health disabilities who have defied society's stigmas to start their own businesses.
The reality show also intends to aspire and lay a platform for those talented and diverse entrepreneurs.
"Each [entrepreneur] tackles the complexities of their individual businesses while giving viewers an insider's look at what it takes to launch and run a thriving small business. Just as each entrepreneur is on the brink of success, they must navigate the challenges of being a small business owner amidst the pandemic," the show's synopsis says.
Meet the Cast
The first season of Born for Business features four entrepreneurs with disabilities: Lexi Zanghi of Always Reason, Qiana Allen of Culture's Closet, Collette Divitto of Collettey's Cookies, and Chris Triebes of The Congregation Presents.
Lexi Zanghi: Zanghi, who hails from East Islip, New York, is a millennial entrepreneur who runs a three-year-old fashion brand, Always Reason. She suffers from anxiety, sometimes so severe that she requires anti-nausea medication among others to counter the panic attacks.
"I'm excited, but I'm also really nervous about it," she told Newsday through a phone call. "Because I was super vulnerable in the show, talking about anxiety. And for viewers to understand, you have to really dive into your past traumas...So it was a fine line of showing anxiety and trauma without also giving away some of the worst parts of my life."
Qiana Allen: Allen, a Chicago-based entrepreneur, owns a fashion and lifestyle brand, Cultures Closet, for plus-size women. It is recognized as one of America's top plus-size clothing stores. But the fashionista lives with Lupus, a disease that occurs when your body's immune system attacks your own tissues and organs.
"In order for people to start loving themselves more, they have to see more people that look like them," she said publicly. She also shared how she saw Born For Business as the perfect platform to aspire more women like her.
Collette Divitto: Divitto, born in 1990 with Down syndrome, is a baker who owns a successful cookie brand, Collettey's Cookies. She has employed several people with disabilities in her bakery.
"I was not only determined to show everyone how capable people with (dis)abilities are, but my mission is to open production facilities across the country and employ thousands of (dis)abled people," the Connecticut native claimed on her website.
Chris Triebes: Triebes, a single father, is a musician making waves in the music industry with his concert production company, The Congregation Presents, two venues, and a music festival ticket service. The self-proclaimed "live entertainment entrepreneur" is diagnosed with spinal muscular atrophy (type III).
"I want to help normalize disability," he said in an interview with the disability advocacy nonprofit RespectAbility. "I think I can be someone who's good for that."
The Creators Speak
Recognizing the importance of the representation of disability on the screen, a strong team of creators is backing this project.
"We're creating a world where entrepreneurship is accessible for everyone," the president of Shopify, Harley Finkelstein, said. "We are elevating these untold stories of entrepreneurship to show the power of entrepreneurship to make dreams a reality."
Similarly, Jonathan Murray from Bunim/Murray Productions stated that Born For Business aimed to show how people with disabilities have long been using entrepreneurship to create an economic livelihood for themselves.