Bobby Shmurda Took a Longer Plea Deal So Rowdy Rebel Could Have a Shorter One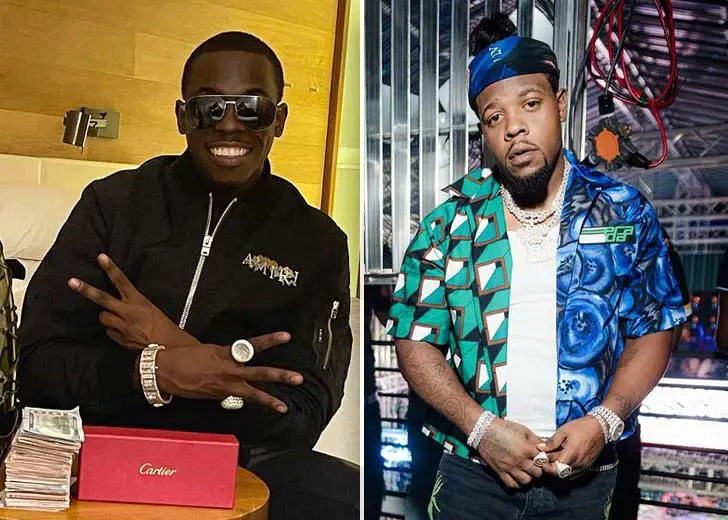 Bobby Shmurda was gunning for mainstream stardom after his breakout hit 'Smoney Dance' went viral, but things went south really fast. 
Shmurda, along with 14 other members of the GS9 collective, was arrested by the NYPD after a year-long investigation.
While the Brooklyn MC has been out on conditional parole since February 2021, he has decisively failed to re-establish the fame he once commanded.
Bobby Shmurda: The Ultra-Viral Breakout Artist
As per Billboard, the authorities charged those arrested for conspiracy, reckless endangerment, and gun possession outside Quad Studios in New York City around 4 a.m. on December 17, 2014.
His breakout hit had come out earlier that same year, in February. He rode the 'Smoney Dance' wave to release another hit, 'Hot Boy.'
The song ended up No. 1 on the Billboard's Hot R&B/Hip-Hop Songs chart and No. 6 on the Billboard Hot 100. As of this writing, the track boasts a whopping 778 million views and counting on YouTube. 
The track that made platinum in less than 50 days put the young rapper on Epic Records' radar.
They reached out with a deal. How could they not? The once ultra-viral 'Shmoney Dance' went from Vine to Beyoncé and Rihanna's hips. Even Drake invited Shmurda on the stage during one of his concerts. 
Bobby Shmurda Taking One for Rowdy Rebel
When he was charged, Shmudra pled not guilty on all counts at a hearing in Manhattan Supreme Court and was ordered to be held on a two million dollar bail.
In another hearing, his lawyers requested the bail to be lowered, but the judge refused as the prosecution characterized him as the "driving force" in GS9.
Shmurda was looking at 25 years in prison for the most serious of his conspiracy charges.
He was offered an 8-year plea deal, but he refused. Soon after, the rapper and his girlfriend were accused of having her smuggle him a knife into Rikers Island. However, both of them pled not guilty again. 
After refusing the plea deal for so long, he finally agreed to it on September 9, 2016. He later explained to Complex why he did it. 
I did it for Rowdy [Rebel]. They offered me five [years] and offered Rowdy 12. They said the only way they'll give him seven is if I took seven, too. So, you know, I had to take one for the dawgs.
He was sentenced to seven years, two of which he had already served. 
While his original sentence dictated that he be out by December 11, 2021, he was later given a conditional release in February 2021. 
Bobby Shmurda Walks a Free Man
Shmurda is not the first rap artist to land behind bars, and many others have jumpstarted their career the moment they were set free—the customary 'First Day Out' freestyle announcing their presence back in the scene. 
Some like Draco The Ruler even recorded tracks over the phone while still inside. However, for Shmurda, that never happened. His rap career was on pause.
He was commended in the streets of New York for how he handled the whole situation.
However, fans were disappointed at the fact that they never got to hear the hungry Shmurda—the Shmurda, the free man that just got back in the game.
And while the numbers looked good for Shmurda when he first got out of prison, they soon deflated to a point lower than his early days.