Inside Bobby Berk and Husband Dewey Do's Wedding and Married Life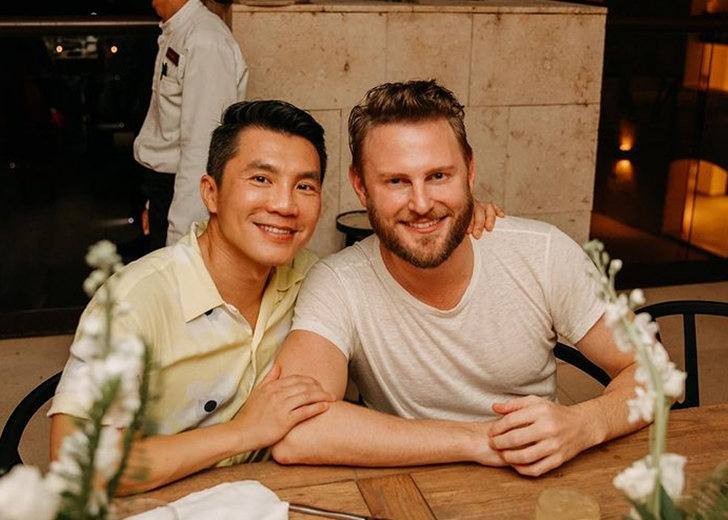 Interior designer Bobby Berk and his husband Dewey Do got married in 2012 after same-sex marriage was legalized in the United States.
During his 2018 interview with People, the designer turned actor opened up about his big day and every detail related to his marriage with Do, a maxillofacial surgeon by profession.
Bobby Berk's Marriage with His Husband Dewey Do
Berk's wedding to his husband Do was entirely unique in many regards.
The Queer Eye actor, who portrays his real-life profession in his reel life, dated Do for around fourteen years before their wedding.
Berk said Do was "very lucky" that he said "yes," and remarked his husband's confident attitude as he was being proposed.
He was posed with a sudden marriage proposal by Do, and before he could think of planning for his big day, the marriage was already in place.
One of Berk and Do's friends was responsible for officiating and legally working out their wedding.

Bobby Berk and his husband Dewey Do. (Source: Bobby Berk's Instagram)
However, toward the end of the year, the couple had to frantically run to the courthouse in downtown New York to register their marriage on time after finding out they weren't married legally.
It turned out their friend trusted with processing the paperwork failed to register their marriage on time.
The newlywed became suspicious after not receiving their marriage certificate, even after applying for it via their friend.
Bobby Berk on Planning Kids with his Husband 
According to a 2019 report by People, Berk and Do planned to have kids in five years from the said time.
A year prior, the couple had just moved from their downtown Los Angeles loft house to their under-renovated home in Los Angeles, near Silver Lake.
They previously lived in New York for around fifteen years.
Berk's new home was located high in the hills and was far from busy street noise.
"We left New York for this, for the quiet. Like, I can open my windows at night here and sleep," Berk said in his explanation.
Being caught up in two professions meant Berk barely made it to his home.
The actor-designer told the magazine that he had only slept in his new home for a total of two weeks since moving in.
Berk's busy work routine meant his husband Do was alone and forced to live his absence.
When the topic of having kids popped up, Berk said having kids with his long-time partner was part of their "five-year plan."
Berk quoted Do and said how his partner "don't want to be a single parent," as he is gone "like 90 percent of the time."
He also remarked his then-new house to be not kid-friendly.
In the same light, Berk said he wished to have kids with Do after moving to a new house suitable for raising their children.
Despite being in a relationship for a long period, Berk and his partner keep up via constant text messages and FaceTimes. 
They had also imposed a rule of seeing each other at least once a week, regardless of everything.