Get To Know Late Comedian Bob Saget's Wife Kelly Rizzo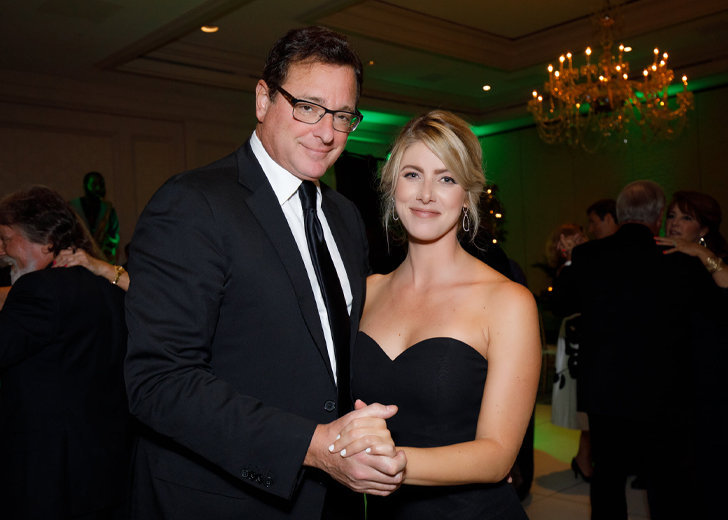 Bob Saget's wife, Kelly Rizzo, learned about her husband's death on January 9, 2022, after calling the Ritz-Carlton in Orlando to know about his whereabouts.
The hotel's security team discovered Saget's dead body after going to his room to learn about his well-being upon Rizzo's request.
Instead of finding the comic in a healthy state, they found him dead, which promoted the staff to report the incident to their local Sheriff's Office.
The comedian who sadly passed away at 65 was scheduled to fly home the following day.

Late Bob Saget and his wife Kelly Rizzo posing for a selfie with the city of St. Loius in the background.  (Photo Credit: Instagram)
The Orange County Sheriff's Office confirmed Saget's passing in their statement posted on Twitter after officers arrived at the hotel at 4 p.m local time.
Saget performed his stand-up show near Jacksonville, Florida, the night before his death.
People, who cited an undisclosed source in their report, claimed the comic was "so excited coming off a great show."
In addition, the publication wrote claiming Saget spoke to his wife Rizzo, few hours before his passing.
Who Is Bob Saget's Wife Kelly Rizzo?
Saget's spouse Rizzo is a food and travel blogger known for producing her award-winning online series Eat Travel Rock.
As of this writing, she is 42 years old, born on May 19, 1981. Rizzo, a Chicago native who currently lives in Los Angeles, was brought up in a household of Sicilian ethnicity.
She got engaged with Saget in November 2017, and both parties announced the news of engagement on their respective social media accounts.
Rizzo and Saget got married in 2018 following their initial meeting via a mutual friend in 2015.
In a TikTok video, Rizzo revealed that Saget made the first move by sliding into her DMs, hoping to commence a conversation.
"I think Bob [Saget] was looking for a good Midwestern gal [girl], a Chicago gal [girl] like myself," she further said in her video.
Saget, in one of his 2021 videos, humorously confirmed Rizzo's claims saying, "When you meet a beautiful food influencer in your DMs and you marry her … and now I can't use my kitchen."
The celebrated comedian tied the knot with his spouse at Shutters on the Beach in Santa Monica, California. While it was Saget's second wedding, Rizzo's marriage to him was her first.
Bob Saget's Wife on Her Husband's Passing
A day after Saget's sudden death, i.e., on January 10, 2022, Rizzo released a statement to address the matter.
In her heartfelt writing, Rizzo said she was completely shattered and in disbelief after losing her "absolute everything."
She also acknowledged the outpouring of love and tribute from her friends, family, and fans.
Further, Rizzo promised to share more regarding her husband once the dust had settled.
Toward the end of her writing, she thanked everyone for respecting her privacy during the difficult time.
Rizzo is the step-mother of Saget's three daughters, Aubrey, Lara, and Jennifer, aged 34, 32, and 29, respectively, whom he shared with his former spouse, Sherri Kramer.