Disney's Former CEO Bob Iger on Being Interviewed by Wife Willow Bay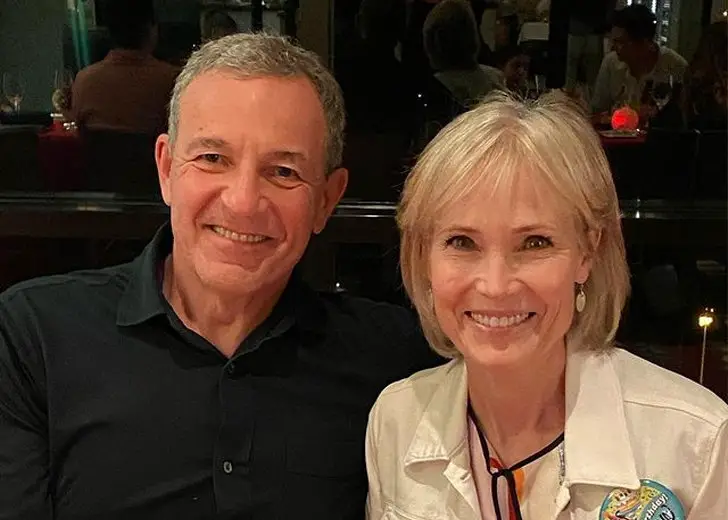 As the former CEO of "the happiest place on Earth," aka Disney, everyone wants to know how Bob Iger does it.
Fortunately for the inquisitive minds, he has spoken about it in previous interviews.
And it just so happened that one interview was done by his wife, Willow Bay, Dean of the USC Annenberg School of Communication and Journalism.
Bay started by thanking her husband for his time, sharing that the former CEO was a better "academic husband" than she was a "corporate wife."
She then posed her first question to her husband, but Iger shared an incident before responding.
He explained that someone came up to him and told him that the interview would be easy since the interviewer was his wife, but he didn't share the same sentiments.

Bob Iger and his wife celebrating their 25th anniversary (Source: Willow Bay/Instagram)
"No one cross-examines one tougher or harder than a spouse," said Iger. This elicited laughter from his spouse and audience.
Bob Iger and Wife Willow Bay
Iger and Bay have been married since 1995.
The couple rented a house in Bridgehampton for the celebrations, which L.I. Cantor William Walton and Rev. Roland Ghirlando, a Roman Catholic priest, officiated. 
Three years later, they welcomed their son, Robert Maxwell "Max" Iger. And in 2002, they had their second son, William Iger.
The duo is also parents to two daughters, Kathleen and Amanda, from Iger's first marriage to Kathleen Susan Iger.
They are relatively private, but Iger's partner does share glimpses into their personal life.
In 2018's Vogue profile on Iger, the dean shared that she and her husband "haven't been apart since June 13, 1994."
The couple had their first date at Alison on Dominick, a romantic little restaurant in TriBeCa.
Bay added they spent a lot of time at home with their children, catching up on shows like The Crown. 
Bob Iger and Wife Honored at the Yes Gala
And on the days they could not spend time at home, they attend exclusive events like the YES 20th Anniversary Celebration Gala.
The YES program provides resources and opportunities to promising students in underserved, low-income communities in Los Angeles, New York City, Chicago, and rural Appalachian North Carolina.
But the assistance doesn't end once a student graduates from college. 
The program provides long-term and holistic support for the student's successful future. 
At the event, Iger and Bay, who supported the program for years, were honored for their contributions and commitment.
Bay had discovered the program when her children attended the same elementary school as YES Scholars.
From there, the Iger family learned more about the foundation and made it their mission to help YES provide high-quality education to the youths of the coming generation. 
The event attendees included the likes of gala co-chairs David Geffen and Mellody Hobson, Chuck Lorre, Ashley Olsen, musical guest Christina Aguilera, actress Carey Lowell and many more.
Everyone made generous contributions throughout the night, culminating in more than $5 million in donations.