Blueface vs. 6ix9ine Fight Is Happening, His Manager Dishes — Jake Paul Gets Involved
"I think the next fight we're going to see might be a Blueface vs. 69 fight," said Blueface's manager, Wack 100.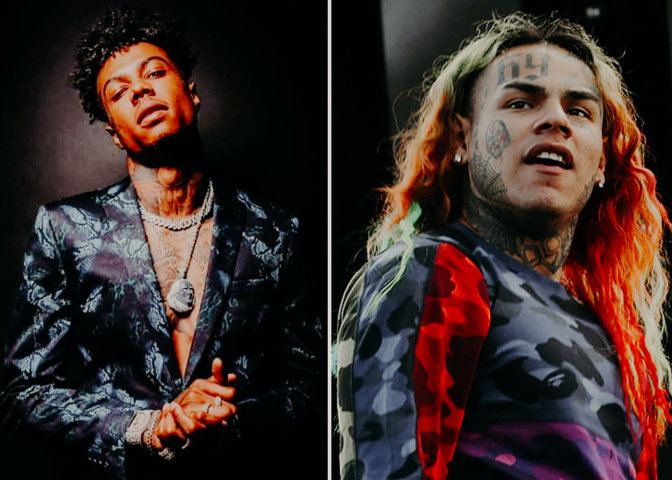 Blueface's manager, Wack 100, disclosed in a recent conversation with MMA Junkie that there is a Blueface vs. Tekashi 6ix9ine fight on the horizon. 
The outlet questioned Wack if he wanted to see Blueface continue boxing. In response, Wack said with utmost certainty that he wanted to see his client in the ring. 
Blueface vs. 6ix9ine in the Works
He also disclosed that he had an appointment planned out with 6ix9ine that would hopefully make way for a Blueface vs 6ix9ine fight.
Although Blueface and 6ix9ine have directed heated comments at one another in the public eye, Wack elaborated that the two rappers don't have serious beef "But a fight is a fight," he added. 
After a shout-out to DJ Akademiks, the one who facilitated the meeting, Wack implied 6ix9ine was likely to accept the offer to get down and dirty in the ring, especially if the price was right. 
The conversation with Wack took place shortly after his client landed a decisive victory over TikTok star Kane Trujillo at Bare Knuckle Fighting Championship 19.
Following that, YouTuber Jake Paul took a shot at both Blueface and 6ix9ine, claiming that all they ever did was go to the studio and do drugs.
Paul Got into the Fold
Shortly after, Blueface put up a video on his Instagram in response. He immediately called Paul out for making comments on boxing when, in fact, the YouTuber was from the entertainment industry. 
The rapper called Paul a total clown and an idiot who was full of himself just because he had two or three fights worth of experience in the ring. 
Fans may recall that back in May, Paul issued a challenge to 6ix9ine when he put up a story saying, 
I want to [fight 6ix9ine] because he deserves to get his [expletive] beat, and I want to do it for all the people he's disrespected. But honestly would be too easy and a 30-second fight + he wouldn't show up in the ring on the day of the fight, but yes I would love to knock him out.
Later, DJ Akademiks shared 6ix9ine's comment on a screenshot of the YouTuber's post.
In the comment, the rapper claimed that Paul was on steroids, much like his bodyguard Shamir Bolivar, who had passed away the month prior. It is apparent that the YouTuber is looking for a fight.
The Feud Between Blueface and 6ix9ine
Recently, the feud between Blueface and 6ix9ine took center stage on Twitter. Blueface accused 6ix9ine of reporting all of his Instagram posts for bullying after 6ix9ine deleted his own skit.
Blueface added 6ix9ine was prone to playing the victim card as he did in court. In a subsequent tweet, Blueface wrote, 
Mans came for me got his feelings hurt so he did what rats do an snitched [sic]
The tweet came just days after 6ix9ine poked fun at Blueface for getting a tattoo dedicated to his favorite jeweler, NYC Luxury, on the side of his head. 6ix9ine trolled Blueface, claiming he owed the jeweler money for his bling. 
Blueface called 6ix9ine out for trying too hard to stay relevant. Still, 6ix9ine decided to take it a step further and acted out a skit based on his original comment. That was when Blueface announced he wanted to fight the 'Gummo' rapper.