Why Did Blake Mycoskie Split with Ex Wife Heather Lang?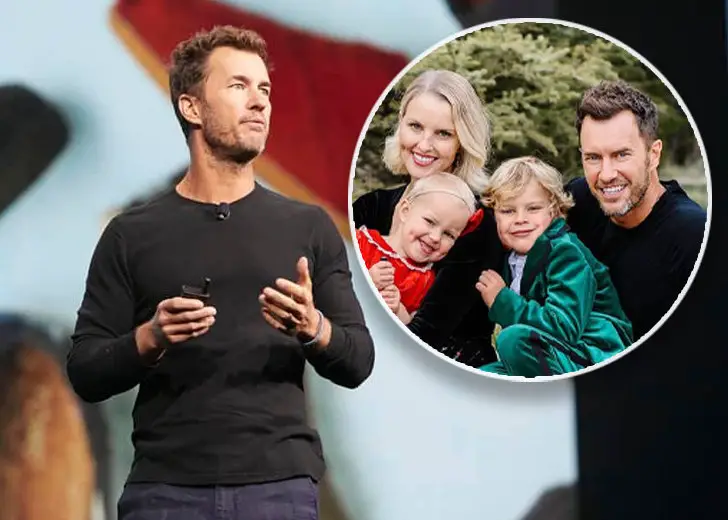 Blake Mycoskie went through a divorce with ex wife Heather Lang a while ago. Their marriage ended even after both of them put effort into making it work.
But the former couple does not seem to be hung up on the grief of their marriage's end. Both of them have found love again.
Blake Mycoskie and Ex Wife's Divorce
Blake and Heather opted to go their own ways in October 2019. It was a mutual decision and a good one in their eyes.
Heather took to Instagram to reveal the details of their split on April 8, 2020. She posted a family picture featuring their two kids — Charlie and Summit, accompanied by a long caption.

Blake Mycoskie with ex wife Heather Lang and their two kids, Summit and Charlie. (Photo: Heather Lang/Instagram)
"In October 2019 Blake + I came to a mutually conscious decision that we should no longer continue our relationship as husband + wife," she began the caption. She then talked about how they spend a lot of time and energy to "work" on their marriage.
They believed in their hearts that they did their level best to make things work.
While things did not turn out the way they wished, they came out of the marriage with a new understanding of things and experiences.
The former couple realized they had a "soul contract" out of which their beautiful kids were born.
But despite this realization, their relationship was not allowing them to be the best version of themselves.
Everything wasn't lost, though. Heather said that they saved the love and support they had for one another and the realization that they would always be in each other's lives because of their children.
They were still co-parents and life partners even though they were not husband and wife anymore.
Further into her writing, Heather wrote about how she and Blake realized it wasn't in their best interests to stay in the marriage. They knew that would make the people closest to them suffer.
Finally, she talked about how they had tried to "write a new definition" of divorce. They had tried to split as amicably as possible, not inflicting harm on anyone else. And they still prioritized their children above anything else.
She ended the caption by talking about how getting a divorce wasn't a failure. And she might have spoken for the both of them when she said she would still try to find love with someone new.
Blake Mycoskie Has a New Girlfriend
Both Blake and Heather were not hesitant to start a new romance with other people. The TOMS founder was the first to announce that he had found a new love.
On August 9, 2020, Blake introduced his new girlfriend to the world.
"Don't find love, let love find you," he wrote in a tweet, beginning his penmanship for girlfriend Molly.
The entrepreneur then talked about how he did not force himself into a new relationship but just waited for the right thing to happen.
Molly had come into his life as a "tornado of love" and had healed him, presumably from the grief of his divorce.
He was grateful that she arrived the way she did and believed that everything would be fine in the future.
Don't find love, let love find you. That's why it's called falling in love because you don't force yourself to fall, you just fall. Molly, you came into my life like a tornado of love, healing & light and I'm so grateful it has swept me up & wherever we touch down will be fine:) pic.twitter.com/SHyG7o6CQM — Blake Mycoskie (@BlakeMycoskie) August 9, 2020
His ex wife, too, found someone new soon. Lang announced her new relationship on September 6, 2020, right after the post about her divorce.
She wrote she had found her "twin flame" in her new boyfriend Laute Diaz and detailed the chemistry they shared.
In her own words, Diaz provided her with the feeling of comfort and peacefulness. She even believed they were meant to be together, and this life was not the first they ended up together in.