Who Are Billie Joe Armstrong's Kids? Sons Are Also Doing Music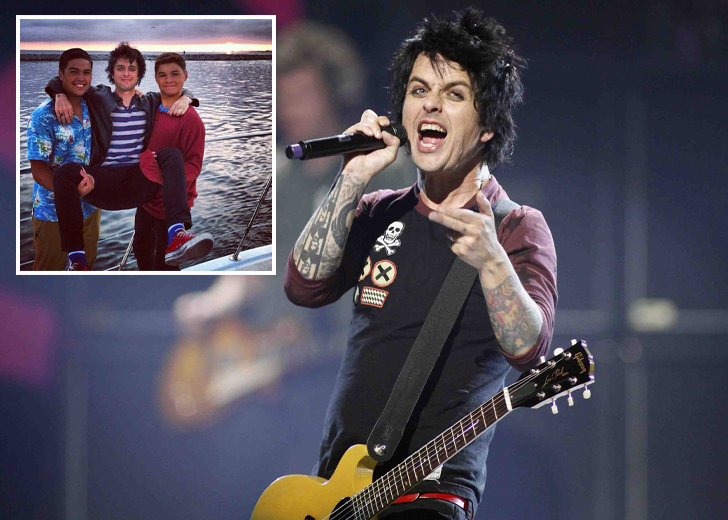 Billie Joe Armstrong has been married to Adrienne Nesser for almost 27 years. Their relationship has blessed them with two kids — Joseph Marciano Armstrong, aka Joey, and Jakob Danger Armstrong. 
Joey is the elder son, whereas Jakob is the youngest. Here is everything about the singer's kids. 
Billie Joe Armstrong's First Son, Joey
Billie and Nesser married on July 2, 1994, after almost four years together. A day after their wedding, Nesser found out she was pregnant with their first child. 
In an interview with Rolling Stones in 2014, the Green Day frontman said that his marriage and fatherhood were because of impulsiveness.
He clarified that this behavior "was meant to counteract the chaos" in his life. 
They welcomed their son Joey on February 28, 1995. Like his father, Joey is heavily involved in the music industry. 

Billie Joe Armstrong with his wife and kids. (Source: Instagram)
According to his website, he and his friend, Cole Becker, formed a band at a young age after being inspired by the film School of Rock. They initially started as The Raining Souls, with Cole's brother, Max Becker, as the bassist. 
They then changed the band's name to The Clocks and, later, Emily's Army. The name was dedicated to Becker's brother's cousin Emily, who was battling cystic fibrosis. 
Lead guitarist Travis Neumann joined the band in 2009 and left in 2014. He was replaced by Sebastian Mueller the same year.
Currently, the band goes by the name of SWMRS. They have released one demo, five EPs, and four albums, mostly under the Emily's Army. 
Billie has also collaborated with his son on various occasions as a producer. Similarly, Jakob has also joined his brother as a touring musician. 

Billie Joe Armstrong's kids, Joey and Jakob. (Source: Instagram)
Joey Armstrong's Sexual Assault Allegations 
Joey was accused of sexual misconduct, molestation, and coercion by Lydia Night, lead vocalist of The Regrettes.
On July 20, 2021, she revealed Joey was 22, and she was 16 when they started dating in 2017. 
She claimed that the SWMRS singer started their relationship via Instagram. He texted her, saying that their band would send The Regrettes some offers for tours. 
Joey responded to the allegations the next day, saying he disagreed with a few things Night said about him. Regardless, he claimed to have privately apologized to Night. 
Billie Joe Armstrong's Second Son, Jakob
Both of Billie's kids are following in his footsteps into the world of music. Like his father and brother, Jakob is also a singer and musician and belongs to a band. 
He was born on September 12, 1998, and started making music in 2015.
Initially, he started as a touring member for SWRMS, but he released his debut solo EP, Jakob Danger, in the same year. 

Billie Joe Armstrong's kids, Joey and Jakob. (Source: Instagram)
Jakob told Rolling Stones that his father encouraged him to record and post his music online. He also mentioned collaborating with his brother and how Joey had helped him in his endeavors. 
Billie's youngest son formed a band named Danger! with the Kevin Judd and the Malaspina brothers, Enzo and Chris. In February 2017, they renamed themselves Mt. Eddy. 
Again in 2019, they changed the name to Ultra Q. In a 2019 interview with Hollywood Life, Jakob said that UItra Q was an homage to their childhood. 
He said the name struck him when he first dropped out of school and returned home. It had been a while since he came home, and he was nostalgic about his childhood. 
He was nostalgic about a show called Ultraman he watched as a kid. It had a prequel series named Ultra Q, which he and Enzo adored.  
As a result, they named their band Ultra Q as an homage to their childhood and something they loved when they were kids.