Meet Bill Skarsgard's Siblings In The Film Industry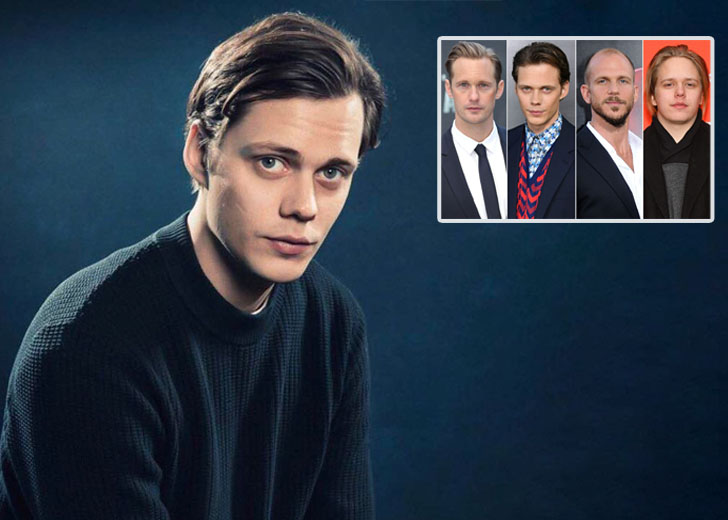 Actor Bill Skarsgard's rendition of Pennywise the Clown in the IT franchise gave movie-goers a pulsating couple of hours in theatres worldwide.
Skarsgard started his career in front of lights and cameras growing up in his native Sweden. 
As a child actor, he worked in several movies and television shows before transitioning into more mature roles and eventually finding his feet in Hollywood.
However, the film star isn't the first in his family to break into Tinseltown and enchant millions of movie enthusiasts all over.
His father, Stellan Skarsgard, is popularly known for the many memorable roles in his long-spanning career.
Actor Skasgard has five siblings, brothers Alexander Skarsgard, Gustaf Skarsgard, Sam Skarsgard Skarsgard, Valter Skarsgard, and sister Eija Skarsgard.
Additionally, the actor has two half-siblings, Ossian Skarsgard and Kolbjorn Skarsgard, from his father's previous marriage to Megan Everett. 
Skarsgard's brothers are all actors, and the Skarsgard family as a whole is very popular in their native country.
A Look into Bill Skarsgard's Siblings Alexander, Gustaf, and Sam Skarsgard
Tarzan actor Alexander is the oldest of his brothers and sisters and, like Skarsgard, is an A-lister in Hollywood.
His career-defining work came in the form of HBO's series True Blood, where he was seen in the role of Eric Northman, a blood-sucking vampire.
The actor later portrayed the character of Perry Wright in another of HBO's ventures titled Big Little Lies.
Alexander has an Emmy, A Golden Globe, and a SAG award to his name as of result of his work on the show.
As per Bustle, he is relatively the most experienced actor in his family apart from his father.
Skarsgard's second oldest brother Gustaf has made a name for himself with the History Channel series Vikings.
He is equally famous as Karl Strand, a character he played in the second season of the HBO series Westworld.
While the two older brothers are established names in Hollywood, Skarsgard's third oldest brother Sam Skarsgard isn't associated with the entertainment industry.
Sam Skarsgard decided not to follow in the footsteps of his father and siblings. Instead, he opted to follow his mother My Skarsgard's career path and is a doctor like her. 
In 2017, Skarsgard sat down with his brother Alexander had an exclusive conversation for Interview Magazine.
Skarsgard paid tribute to his brother Sam Skarsgard and their mother's professional choice during the chat.
"We have a mom and a brother who literally save lives," remarked the actor.
His Sister Eija Skarsgard and Brother Valter Skarsgard
Reportedly, Eija is a former actress and model. Therefore, Eija isn't active in the entertainment industry like her brothers.
She got married in 2019 and is currently a housewife. Eija likes to share pictures of her regular life and engage with her 159,000 followers on Instagram.
On the other hand, Skarsgard's youngest siblings Valter is relatively unknown in the United States. 
Having said that, the actor is pretty famous in his native Sweden, especially for his work on Jan Guillou's trilogy Arn.