Inside Bill Hader's Relationship with His Kids and Family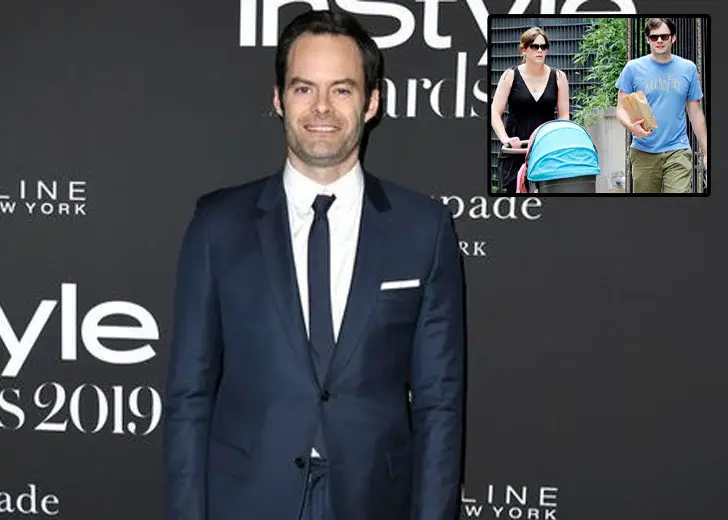 Bill Hader is currently making headlines for being in a secret relationship with Anna Kendrick. 
But what many tend to forget is that he was once a married man and has kids. Hader met his wife, Maggie Carey, in Los Angeles with the help of her friends from college.
Like him, Carey is also active in the entertainment industry. But instead of in front of the camera, she works behind it as a writer, producer, and director.
Bill Hader, His Wife, and Kids 
Hader and Carey tied the knot on May 28, 2006. Unfortunately, after 11 years of marriage, the two parted ways. 
They separated in November 2017, but the official date for separation is listed as July 31, 2017. Hader filed for divorce in December 2017, which was finalized in March 2018.

Bill Hader posing for a photo. (Source: Instagram)
They reached an agreement, and their status as single persons was restored on June 23, 2018. Hader and Carey's 11 years of marriage were blessed with three kids. 
Hader and Carey first announced their pregnancy in August 2009. They welcomed their first of three children, Hannah, on October 6, 2009.
The It: Chapter 2 star announced the birth of his second daughter three years later. The couple was blessed with baby Harper on July 28, 2012. 
Then, two and half years later, the Hader family was complete with the birth of the actor's third child, Hayley. He welcomed Hayley on November 15, 2014. 
Bill Hader's Relationship with His Daughters
When he first was a father, Hader was happy and spent time with his kids. He used to talk about them in interviews and gush about how much he loved them.
After his second daughter was born, Hader even left Saturday Night Live (SNL) to be with his family. The job was demanding, and he was "so consumed with work and anxiety."
Eventually, it was either being on SNL or being a father. He chose the latter and left SNL to be with is children and help his daughter. 
But once again, as time went by, he got busy with his professional career. He was so indulged in filing and shooting that he could not spend time with his family.
In an interview with Variety in January 2019, Hader confessed he had become an absent father. He admitted he had only spent a total of five days with his kids in the summer of 2018.
Filled with shame, he opened up about how terrible it was for him to spend less time with his daughters. Therefore, he promised to "take off" in the summer of 2019.
He teared up while talking about his daughters and missing them. Then, he lowkey blamed his career for not being able to spend time with his children.
He said, "It's this weird thing where when you're in this industry, you don't have time to be with them, and it's really, really difficult." So, true to his words, Hader only took writing jobs.
As a result, he could work from home and spend time with his kids.