Dating Alert! Bill Hader and Anna Kendrick Have Been Silently Dating for over a Year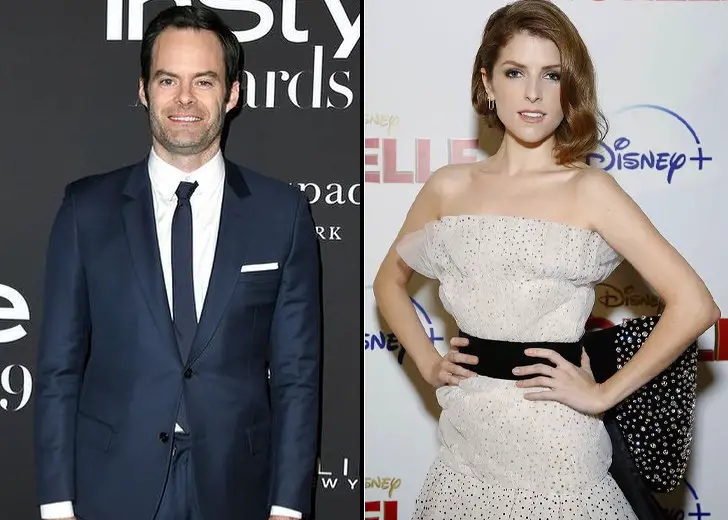 Bill Hader and Anna Kendrick are the new power couple in the town.
According to People's January 2022 report, the actor has reportedly been dating his girlfriend, who is also a famed actress, for more than one year.
However, not many were aware of the relationship since the boyfriend and girlfriend opted to enjoy their budding romance privately.
"Anna has been dating Bill quietly for over a year," a source told the tabloid.
The source continued to share, "They met years ago. She's hosted Saturday Night Live and they've done a movie together, but they got together well after the movie."
Bill Hader and Girlfriend Anna Kendrick's Private Dating Life
In the same report, it was stated that Hader and his girlfriend, Kendrick, were very private people who never brought their personal lives into the spotlight.
So when the two hit it off with each other, they continued to stay tight-lipped about their love life. In addition, they began dating around the pandemic, which helped them keep things quiet.
"They're both hysterical so they must keep each other laughing all of the time. She's really, really happy," the source further told People.

An Instagram picture of Bill Hader's reported girlfriend, Anna Kendrick. (Photo: Instagram)
As per the publication, the two actors' reps also denied commenting or confirming the relationship when the publication reached out to them.
That said, in a rare instance, Kendrick opened about her dating history while discussing her HBO Max series Love Life during an interview with The Sydney Morning Herald in 2020.
She told the publication that she was "just so happy that I'm clearer now about what I will accept from people in my life."
Bill Hader and Girlfriend Anna Kendrick's History Together
Hader and Kendrick are no strangers to fans. The pair, even though not dating in the past, starred together in the 2013 romantic comedy The To Do List.
At that time, however, the actor was married to that film's director, Maggie Carey. He also shares three daughters with his ex-wife — Hayley Clementine, Harper, and Hannah Kathryn.
In addition, they worked together on 2019's Christmas film Noelle. And even though they played siblings in the movie, they grew a real-life friendship during the filming, which eventually led to a relationship.
Fast forward to the present, and the alleged couple is still reported to be together.
In February 2022, Us Weekly noted that Hader and his reported girlfriend had been going out for movies, hanging with friends, and enjoying weekend trips away. But they have also been keeping the romance away from the spotlight.
Bill Hader's past Relationships
As stated earlier, Hader was formerly married to director Carey. He tied the knot with her in 2006, but the marriage eventually ended after more than a decade in 2017.
They first announced their separation in November 2017, with the actor later filing for divorce in December.
In March 2018, the uncontested divorce reached a settlement and was finalized three months later.
After the divorce, the Barry actor began dating actress Rachel Bilson, with whom he had previously worked on The To Do List.
He and Bilson even made their first appearance in public as a couple at the 77th Golden Globe Awards in 2020. But the relationship reportedly ended in July 2020.