Bhad Bhabie Drags Comparisons with Cardi B and Body Shaming in New TikTok Clip
Bhad Bhabie is being compared to Carbi B.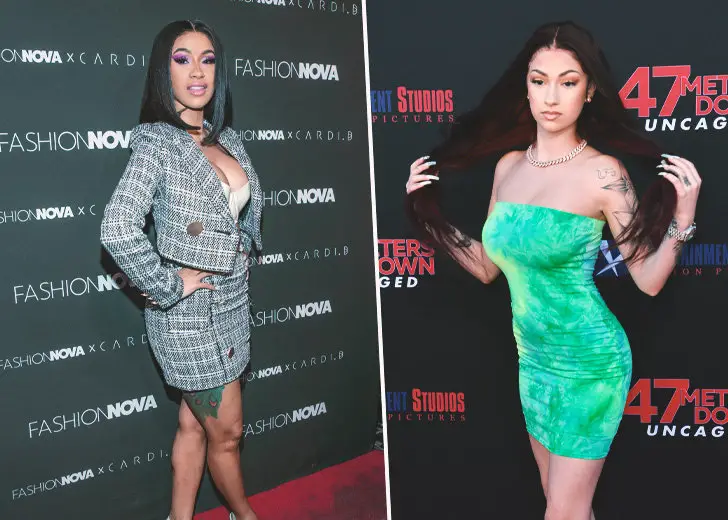 Rapper Bhad Bhabie got people comparing her to Cardi B after sharing a new TikTok video sporting a fresh look. 
In the video, the young rapper can be seen with a new hair color as well as a different makeup look.
In the video, Bhad Bhabie is holding multiple purses and three stacks of cash as she jokes about being the top earner family despite being the "disappointment of the family." 
The comment section of the post has been flooded with people saying she resembled Cardi B a lot and that her new look immediately made her look much older than she is.
Aside from being likened to the 'Bodak Yellow' hitmaker, Bhad Bhabie also received a plethora of negative comments, particularly about her looks and her body.
However, this isn't her first time dealing with body shaming, and she has been candid about her experiences in the past.
Bhad Bhabie On Dealing With Body Shaming
Bhad Bhabie has been dealing with body shaming since she first rose to fame. The rapper has shared about her experience with body shaming on multiple occasions.
Back in 2020, Bhad Bhabie took to Instagram to talk about how much impact body shaming has on people. She explained people were always dissatisfied and turn to body shaming no matter what.
This message is for every female who is body shamed… I want every one of you to understand that no matter a size 00 or 5 or 12 people will always have something to say… you are your own person and you control how you feel about yourself, never let another person determine your confidence and how you feel about yourself and your body.
In another post, Bhad Bhabie had also said that the negative and body shaming comments people sent her way were uncalled for and that the only reason she got them was because people wanted attention from someone famous.
The rapper has expressed her happiness with her body and called out haters saying they didn't like her because she wasn't insecure about her body being skinny.
Made $1 Million On OnlyFans In 6 Hours
When talking to Inked Magazine, Bhad Bhabie revealed it was the reason she opened her OnlyFans account.
Since I was young, I've been called names and told that I'm doing this and that. I thought, 'You know what, I might as well make money from it.' I'm not gonna lie, I did definitely expect for it to be the biggest shit ever for the website… But even after I made one, the success still shocked me.
Bhad Bhabie launched her OnlyFans account when she turned 18 in March. A few days later, she took to Instagram to claim she had broken the subscription site's record after revealing she had earned over a million dollars in just six hours.