Bert Kreischer's Gaining Weight and Tom Segura Might Have a Hand in It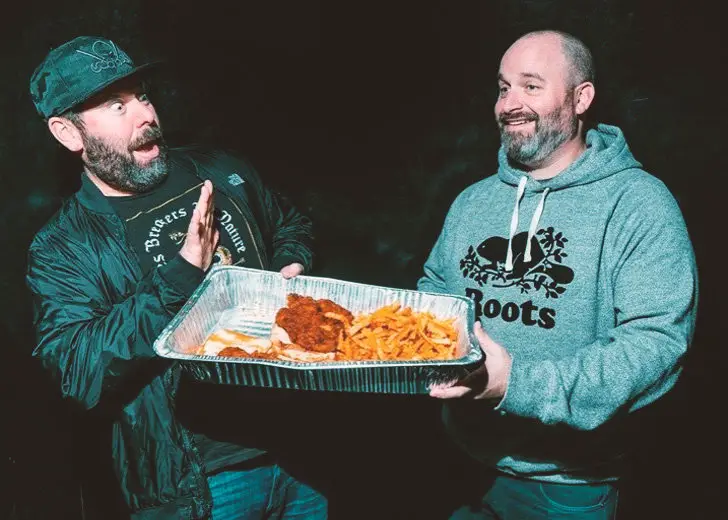 In a recent episode of the 2 Bears, 1 Cave podcast, Bert Kreischer and Tom Segura were discussing Kreischer's weight when the former accused the latter of gaslighting him. Kreischer shared he had never known he was fat until he started being fat shamed by Segura.
The conversation popped up after Kreischer began saying that, in his head, everyone was laughing at him. Because everyone, including Nadav, was skinnier than him.
He further added that he had become fat only after being mind tricked by Segura.
You know I was never fat, right? I was never ******* fat. You were the fattest person I knew and then… you ******* Jedi mind tricked me into being fat.
Amidst jokes and laughter, Segura explained his and Kreischer's weight gain and weight loss over the years. He pointed out that he had lost a considerable amount of weight because he had changed his diet.
Kreischer argued, saying he had put on weight after Segura and his wife, Christina Pazsitzky, began fat shaming him by saying he looked like Gerard Depardieu.
Kreischer further added that the first time he found out he was fat was after people began calling him out for his weight because Segura and his wife had asked their fans to take to Twitter to ask Kreischer why he was so fat.
Segura and Kreischer contested on the matter with Kreischer sticking to the aforementioned points and Segura saying otherwise. Eventually, the two podcasters checked Kreischer's weight loss vlog and after looking at his body back in 2015, Kreischer eventually agreed that he weighed exactly as much back then as he does now.
Segura and Kreischer Fat Shame Eachother
As the two comics continued revisiting their past with weight gain and weight loss, the topic eventually shifted to why Segura was fat shaming Kreischer. Segura answered he started doing so because he had been fat shamed by Kreischer in the past.
Kreischer vehemently denied the statement, saying he had no recollection of ever teasing Segura about his weight. "I am being very honest. I have no recollection of ever even noticing you were overweight."
Though the two comics never reached a definitive conclusion and each stuck to their own version of the narrative, Kreischer ended the episode on a positive note, saying he was now ready to lose weight.
I am going to forgive you. I hope that this releases the demons and then I can lose weight now. Hey Tom, I never knew I was fat. And you told me I was fat. And I found out I was fat. And I have struggled with my weight since the day you told me I was fat. And today I forgive you. And now I plan on losing weight.
This is Kreischer's latest attempt at losing weight. Before this, he had gone on several weight loss journeys, including one where he and Segura competed to see who could lose the most weight. The loser of the challenge had to pay for the winner's trip to anywhere of their choice.