How Tom Segura's Viral Taunts Inspired Bert Kreischer's Weight Loss Journey
Tom Segura's comment about Bert Kreischer's belly started the latter's weight loss journey.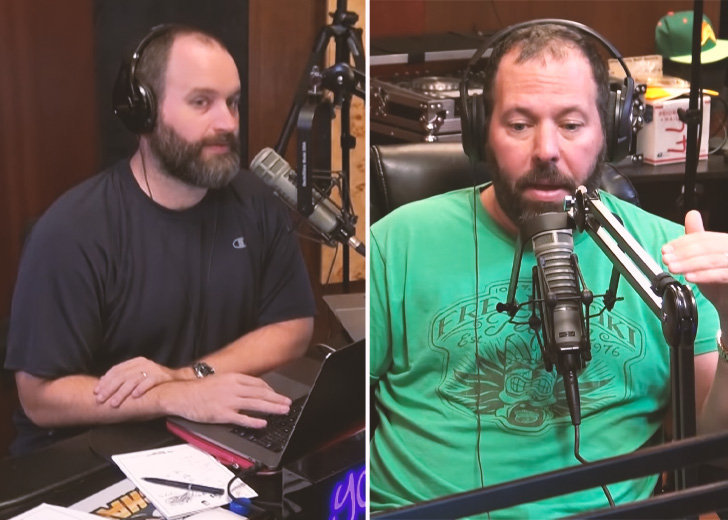 Bert Kreischer is a famous comedian who is often recognized for his signature style of delivering jokes without a shirt on. Aside from stand-up comedy, he is also known for being a podcaster who also appears on other podcasts as a guest.
Throughout the years, Kreischer has been involved in many stories involving podcasts. Still, the most memorable one, without a doubt, would be the story of him shedding dozens of pounds because of a competition with Tom Segura.
Bert Kreischer And Tom Segura's Weight Loss Challenge
Kreischer and Tom Segura competed against each other to see who could lose more weight. It started after Segura and his wife Christina Pazsitzky pointed out that Kreischer's belly looked like Gerard Depardieu during an episode of their Your Moms House Podcast.
The couple then spurred their fans to take to Twitter and ask Kreischer why he was so fat. It was initially a light-hearted joke but soon turned into a big thing after Segura's fans from all over the world flooded Kreischer's Twitter.
Kreischer being fat also turned into a meme on several social media platforms, and both Kreischer and Segura reacted to some fan-made content about the issue on the podcast.
Eventually, the two started their weight loss challenge in 2017 on the Joe Rogan Experience. The challenge came with its rewards and punishments — the loser had to pay for the winner's trip to any place he chose. Additionally, the loser also had to shave their beard.
Later on, Ari Shaffir made the challenge more interesting, adding the condition that he would pay for both Kreischer and Segura's trips if they managed to get their BMI out of the obese category.
In the end, both Segura and Kreischer got their BMI out of the obese category, and Shaffir had to pay for both of their trips.
As for who won the challenge, Segura ultimately came out on top after losing six lbs more in comparison.
Bert Kreischer's Weight Gain And Weight Loss
Aside from his weight gain and weight loss, Kreischer has also shared how he had not been comfortable with his weight for a long time.
You know you have a weight you are comfortable with? I remember being like, faking it like 245 for whatever reason was fine. And then at 255, I remember just being like 'Yeah, but that's like 245.' If somebody said like how much do you weigh when I was 255, I would say 245.
Kreischer has also been open about the reasons his weight has fluctuated so much over the years. When he was 40 years old, he weighed about 215-216 lbs. He later hosted the third season of Travel Channel's Trip Flip, which resulted in him going up to 240 lbs.
Kreischer then suffered from an injury while playing tag football, resulting in him unable to move much. Because of the sedentary period, he put on weight real quick. However, what the comedian says contributed to his weight gain the most was falling off a waterfall.