BD Wong's Husband Cannot Stop Gushing about Him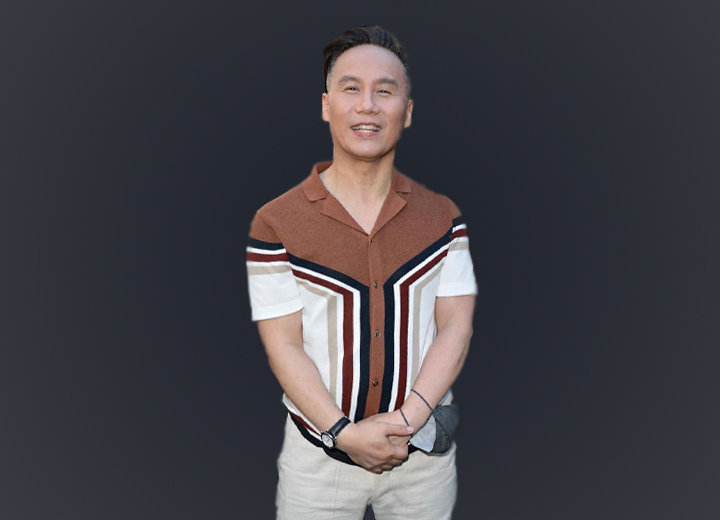 Law & Order: SVU actor BD Wong and his husband, Richert John Frederickson Schnorr, have been married since October 8, 2018. 
The actor and the digital producer first met at an online dating site singles mixer in 2010. And eight years later, the couple held a Jewish ceremony at Giando on the Water in Williamsburg. 
On the day of the celebration, Wong's husband shared his excitement on Instagram with a black and white shot of the couple kissing with their arms around each other.
"I'm getting married today," the Director of Digital Media at the New York Public Library wrote in the caption.
Wong wore a '70s vintage black velvet three-piece suit while Schnorr wore a gold lame Hugo Boss dinner jacket, 
The couple had invited 250 guests, including celebrities such as Stephanie March from Law & Order: SVU and Lori Tan Chinn from Orange Is the New Black.

BD Wong and his husband on their wedding day. (Source: Instagram)
They were seated at the Italian restaurant's outdoor patio overlooking the scenic Manhattan skyline and Brooklyn Bridge. 
BD Wong and His Husband Gush about Each Other
On October 8, 2021, Wong shared a special tribute for his husband for their anniversary. He uploaded a photo of Schnorr wiping his chin while he was eating ice cream. 
"Today is our anniversary, and recently, @anrizzy took all these great pics of us. Of all those photos, this is the one that perfectly sums up such a big part of our relationship. @richertschnorr is the one who literally tidies up all the little messes. I [love] my person!" Wong wrote in the caption. 
The actor does not offer glimpses of his married life, preferring to keep it mostly work-related on social media. But his husband does not shy away from professing his love for the actor.
On October 7, 2019, a day before their anniversary, Schnorr uploaded a snap with Wong and iterated they were spending a night at YWA Hotel and ended the Instagram post by expressing his love for Wong. 
Schnorr also promotes his partner's work every chance he gets. 
On August 22, 2022, he could not stop gushing at how proud he was of Wong for "creating a remarkable piece of theater" with determination and grit over many years. 
BD Wong's Relationship before Richert John Frederickson
Before the Law and Order star dated his current spouse, he was in an almost 20-year relationship with a talent manager, executive producer, and author Richie Jackson. 
The former couple had twin sons, Boaz Dov and Jackson Foo Wong, with Wong's sperm and an egg donated by Jackson's sister in 2000. Unfortunately, Boaz died immediately after birth, while Jackson Foo is now 22. 
Wong and Jackson broke up in 2004 and have co-parented Jackson amicably. Jackson, too, moved on and is now married to Broadway producer and red carpet fashion provocateur Jordan Roth,.
While Wong and Schnorr do not have any children, Jackson and his husband have a son. In 2015, Wong and Jackson's only son came out as gay. His parents were thrilled and accepting of his sexuality.