Aziz Ansari and Girlfriend Serena Skov Campbell Are in a Serious Relationship
Aziz Ansari met the love of his life in the darkest phase of his life.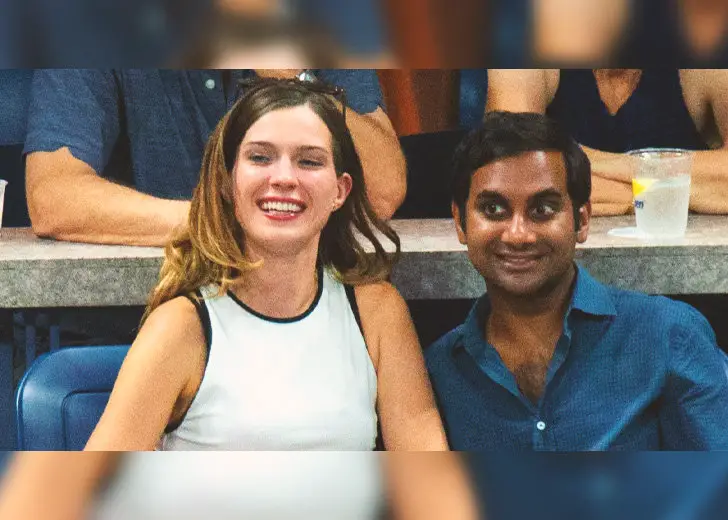 American actor and comedian Aziz Ansari opened up about his relationship in his Netflix special Right Now, released in July 2019. "I'm in a relationship right now, yeah, a very wonderful woman," he said. "We have a deep connection that is very hard to find."
The comedian revealed falling head over heels with Serena Skov Campbell while performing at Radio City in 2018. He said that his relationship with Campbell has "his whole outlook on life changed."
Who Is Aziz Ansari's Girlfriend?
Ansari, co-creator and actor of The Master of None, has been dating forensic data scientist Dr. Serena Skov Campbell since 2018.
According to her LinkedIn profile, the comedian's girlfriend is an alum of King's College, London, from where she gained her Ph.D. in Plasmonics in 2019. She has mentioned that her "main area of research is manufacturing and characterizing a new hyperbolic meta material."
Her profile also reveals she's a mentor at Twinkle ORBYT, which is "a small, low-cost mission that will use spectroscopy to decode the light from hundreds of extrasolar planets and solar system objects."
Campbell is currently working full-time as a senior associate in the investigative analytics team at PwC in London. She is fluent in Danish and has conversational skills in French and German. She describes herself as a "Danish Princess" and a "Budding astronaut" in her Instagram bio.
Their Relationship Timeline 
The pair were spotted spending quality time together at the U.S. Open Tennis Championships at Flushing, New York, on September 3, 2018. Ansari and Campbell have been together since 2018, but they were not vocal about their relationship until a year later in 2019, when Ansari shared photos of them on his social media. 
Ansari and Campbell have shared pictures of them vacationing in Spain, Italy, Morocco, and Sri Lanka. 
Aziz Ansari Plans to Get Married to His Girlfriend
It became clear how serious Ansari and Campbell were about each other when reports surfaced about Ansari taking his Danish girlfriend to India to meet his grandmother, who has Alzheimer's disease.
The comic also revealed his plan to get married to Campbell while performing at Radio City in June 2019. 
You know the deal is serious when you take your girlfriend to meet your grandmother, especially in a desi household! We wish the lovebirds all the best.
Aziz Ansari's Harassment Accusations
Before getting totally smitten with his Danish girlfriend, Ansari faced assault allegations in January 2018, when an anonymous photographer in a babe.net article accused Ansari of harassment while they were on a date.
"There're times I felt scared, there're times I felt humiliated, there're times I felt embarrassed, and ultimately I just felt terrible that this person felt this way," Ansari said while addressing the accusations in his comedy special, Right Now.
The comic revealed going through dark times as he thought his career was over when he was called out. However, he added that after meeting his girlfriend, his entire perspective towards life changed for good.