Axl Rose's 60 Now and Living the Dream with Guns N' Roses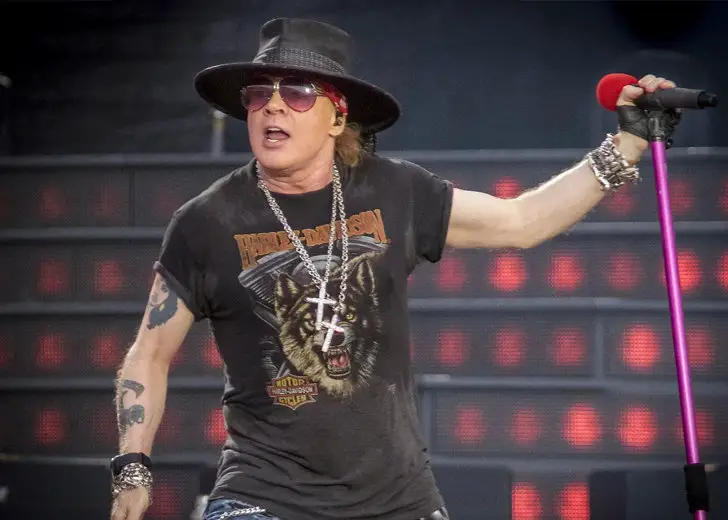 Axl Rose's life has been filled with major ups and downs.
Both his personal life and his professional life have suffered a lot, especially in the '90s.
Now, however, Rose is back to doing what he does best — making music and entertaining people.
For a man who's in his early 60s, the Guns N' Roses frontman is doing great right now.
Axl Rose Is Now Alive and 60
Rose was born on February 6, 1962, as William Bruce Rose Jr. in Lafayette, Indiana. He turned 60 in 2022.
Despite hitting the big number, he did not post anything regarding his birthday. He tweeted on February 5 on Duff McKagan's birthday.
"Happy birthday Duff n' Del!!!" he wrote on the birthday tweet.
Even though he made no celebratory posts for his birthday, everyone who loved him did.
Guns N' Roses's official Instagram uploaded a video of him belting the band's 'Paradise City' in one of their recent concerts.
"The one n' only! Show Axl Rose some birthday love," the post read. The comment section was filled with wishes from fans all over the globe.
Axl Rose Is Now Making Music Again
Rose, alongside original band members Slash, Izzy Stradlin, Duff McKagan, and Steven Adler, formed Guns N' Roses in 1985.
They achieved massive success just two years into their journey in hard rock.
Their first two albums got them immense popularity between 1987 and 1989. However, things changed for the worse as 1990 arrived.

Axl Rose with his Guns N' Roses bandmates back in the '90s. (Photo: Twitter)
He had met his first and only wife, Erin Everly, in 1986. But by 1990, they were separated, and their marriage was annulled in 1991 due to physical and emotional abuse.
In the band, turmoil had started. Adler was briefly fired for his drug use but reinstated later. This went on for many years.
All the original band members except Rose had left, leaving him as the only original band member by the time the 21st century started.
1994's 'Sympathy for the Devil' became the band's last single to feature McKagan on bass and Slash on lead guitar until recent times.
In 2000, the then sole OG member of the group, Rose, spoke about why he thought the band broke up.
"The poverty is what kept us together. That was how we became Guns N' Roses. Once that changed, Guns N' Roses was like the old Stones or whatever," he told Rolling Stones.
He further compared the band to a car and said when there were many drivers in one car, the vehicle was bound to go "off the cliff."
At this point, a reunion of the original band members seemed next to impossible. And it remained like that for many years to come.
Rose told The Guardian in 2009 that either he or Slash would die before a reunion.
However, the unthinkable started to take shape in 2014. First, he reconnected with McKagan. The bassist got along well with the new members of the band. Then, Slash came around.
Therefore, in 2016, Guns N' Roses completed a once unfathomable reunion. It wasn't a complete reunion, though, as Stradlin and Adler were absent from it.
They headlined Coachella 2016, and Rose is now touring and making music.
On August 6, 2021, the band released 'Absurd,' their first new music since 2008. And on September 24, 'Hard Skool' was released.
Rose has also been on tour with the band in recent times — in 2020, their Not in This Lifetime... tour began, and they are set to play in North and South America, Europe, Australia, and New Zealand in 2022.